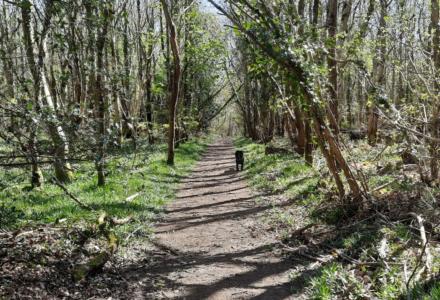 April 2021 Newsletter
Copy of my Newsletter sent out in April 2021. If you would like to receive monthly news from me, please fill out the form on the menu 'Newsletter'. Thank you :)
"Pursuing the past will not liberate it,

because you are no longer the person now

that you were then."

Darryl Lowe.

Hello there... How have you been? It has been a long while since we sat together, breathed together and moved together.

Did you take some time to pause and reflect?

Did the coming of Spring help you to decide what you will be picking up again, and what you will leave to it's own devices?

Now is a good time for that! Let's call it an Inner Spring Clean
Another quote : "In the rush to return to normal, use this time to consider which parts of normal are worth rushing back to....." Dave Hollis.

If you are looking forward to picking up your classes with us again, then I look forward to saying 'Welcome Back' as the Dream Team prepares to re-open the doors at Bodnant Welsh Food from Monday May 10th.

We are very excited to welcome two new teachers to the team at Bodnant, Poppy Backshall from Llanrwst and Ayla Jones from Conwy.

If you are not here in North Wales, or you are not ready to step over the threshold just yet, then I will have one Zoom class a week so that we can stay connected. Let me know if you are interested in continuing on Zoom or starting on Zoom.

Psssst...we also have a monthly Zoom get-together coming up....

Thursday May 6th - a Monthly evening event where you simply lie down and receive a long YOGA NIDRA to re-balance and re-new your energy levels, sleep and focus.

Sooooo...let's get back to our weekly routine, with our regular classes. This is our timetable so far.....
MONDAYS
Pilates with Sasha Jones (*at Rhos-on-Sea*): 9.30 – 10.30am
Vinyasa Yoga with Jane Barnes: 7.30 – 8.30pm start date TBA
TUESDAYS
QiGong with Phil East: 10.00 – 11.00am
Gentle Yoga & Meditation with Kate Hamilton-Kapur: 1.00 – 2.30pm
Yoga for Beginners with Helen Jackson: 5.30 – 6.30pm
Mindful Vinyasa Flow with Helen Jackson: 7.00 – 8.15pm
WEDNESDAYS
Kids Yoga Club with Natasha White: 4.15 – 5.00pm (from June 9th)
Gentle Yoga & Meditation with Kate: 5.15 – 6.45pm
Evening Yoga with Yoga Nidra with Kate: 7.30 – 9.00pm
THURSDAYS
Gentle Yoga & Meditation with Kate: 10.00 – 11.30am
Gentle Yoga & Meditation with Kate: 12.15 – 1.45pm
Pilates with Sasha Jones: 5.15 – 6.15pm
Vinyasa Flow Yoga with Poppy Backshall : 7.00 – 8.00pm
SATURDAYS
Yin Yang Yoga with Natalie Gray: 9.30 – 11.00am
SUNDAYS
Mellow Sunday Flow with Poppy Backshall: 9.30 - 10.30am
There's lots more in the pipeline, but let's begin with baby steps. Let's get back into our space and settled once again at our beloved Bodnant and we will grow together from there.

SEE YOU ON A MAT VERY SOON.....

with much love and Springtime blessings from

Kate, Jane, Phil, Helen, Natasha, Sasha, Natalie, Poppy & Ayla
XXX

For Class Bookings, please CLICK HERE... Many Thanks :)