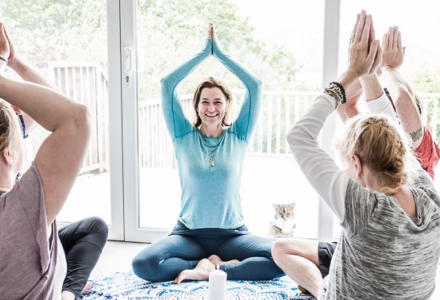 February 2021 Newsletter
Copy of my Newsletter sent out in February 2021. If you would like to receive monthly news from me, please fill out the form on the menu side 'Newsletter'. Thank you :)
"To be part of a tribe is a primal need...as tribal beings, we are energetically designed to live together, to create together, to learn together, to be together, to need one another."

Caroline Myss, Anatomy of the Spirit (book)
I am feeling the ache, the ache of being separated from People. All sorts of people. My loved ones, old friends, my yoga colleagues, my yoga tribe. Are you feeling it too?

We are not designed to live like this, stepping away from people as we pass them on the street, wearing a mask to drop off shopping to family... not hugging my Mum!!
The longer the lockdown and restrictions continue, the more apparent basic human needs seem apparent to me; I am noticing the things that are missing. As we look ahead, we can all safely say, we will not take each other for granted ever again! And we can also decide how to step out into life in a way where we are more present, aware and grateful for all of our many blessings.

SO, WHAT ARE WE DOING TO STAY CONNECTED TO YOU?

CLASSES (all on Zoom for now)- In my classes for the next few weeks, we are working on Sun Salutations, as we re-welcome the warmth of the Sun and we jump into Spring - a time of renewal, hope and optimism. Please join me on Tuesdays at 1pm, Wednesdays at 5.15pm and Thursdays at 10am.

On Wednesdays at 7.15pm I have a new class - a chill-out, wind-down, slow and steady mat-based class (which means a lot of lying down!) with a 30 minute Yoga Nidra to send you off to bed.

PHIL EAST is sharing the benefits of the gentle practice of QiGong on Tuesdays at 10am.

NATASHA WHITE has a Pregnancy Class on Saturday afternoons at 2.30pm.
WEEKEND EVENTS - On Saturday March 6th at 10am, I am hosting a Zoom workshop with Julianne Downham
and introducing a new love of mine - Emotional Freedom Technique (EFT) which is a very simple and applicable technique where you gently tap a few times on 9 pressure points on the head and upper body while confronting difficult emotions that you are holding... as you tap and speak the emotions out loud, they slowly dissolve and soften. I met Julianne on a similar workshop with Steph Healy a month ago, and I have been tapping ever since!

For our workshop, we are going to focus on ACKNOWLEDGING ANXIETY.
"People are experiencing significantly more stress, anxiety and depression since lockdown began, with women and young people the most affected, according to a major new study led by University of Nottingham and King's College London...... with 64% of participants reporting symptoms of depression and 57% reporting symptoms of anxiety."

source: https://bit.ly/3sB8jnP
I have always been mostly interested in teaching yoga to share techniques that help people to manage their own health and well-being. I am always working on coming back to being in balance myself, over and over again... and I feel that we can all do this if we have the right tools to hand. Yoga, Meditation, Yoga Nidra and EFT are some of the tools available to you and we will be using all of these tools to tackle our Anxiety head on, together, in this workshop.
ALSO - If you are missing our Monthly Gong Baths with Steph Healy,
join us on Zoom on Sunday March 7th for a magical ride along a sound journey, through headphones in the comfort of your own home.

I'll be seeing you, very soon I hope...

Kate xxx

For all bookings, please go here: https://bookwhen.com/omyoganorthwales

"Your heart serves as the compass for your actions, guiding you to do the right thing when your soul becomes lost."

Anthony William, The Medical Medium