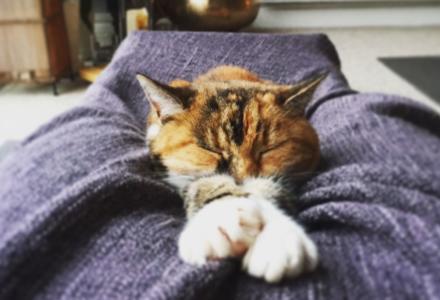 March 2021 Newsletter
Copy of my Newsletter sent out in March 2021. If you would like to receive monthly news from me, please fill out the form on the menu 'Newsletter'. Thank you :)
"A CAT DOES NOT WANT THE WHOLE WORLD TO LOVE HER.

ONLY THOSE SHE HAS CHOSEN TO LOVE"
If you were honoured enough to have Cinnamon choose you for our weekly Savasana, then Thank You for loving her back. Cats aren't always easy to love, but somehow Cinnamon managed to steal most of your hearts. For those who don't know, for four years, until the goddamn Lockdown of March 2020 that is, I taught yoga from my lounge and Cinnamon joined most of our classes. This week, at the age of 16 she succumbed to a tumour in her ear and she got very, very sick. I stroked her forehead as she was put to sleep on Monday. Thank you for all your lovely messages since then.
So much loss, so much hardship and so much grieving in this past year. If you are struggling with loss and need a quiet space for some solace, please lie down under a blanket and listen to my Yoga Nidra for Grief right here:

https://www.youtube.com/channel/UCPjZagYqJ-7H2gaiA8BYtYw

In other news....

IT WOULD BE LOVELY IF YOU COULD JOIN US ON ZOOM THIS WEEK
I have an Evening Candlelit Yoga session at 7.00pm THIS SUNDAY
21st March. Unfortunately, we will still be on Zoom, but you can light your candles and incense, put on your pjs, turn out the lights and come for a chill out with me...
ON TUESDAY 23rd March at 10.00am, Phil is starting a 6 week course on Qigong to enrich your Yoga Practice. Read about how the benefits of Qigong translate so beautifully to Yoga here: https://triyoga.co.uk/blog/yoga/enriching-your-yoga-practice-with-qigong/

I have my four WEEKLY CLASSES still on Zoom....

Tues at 1.00pm, Weds at 5.15pm and Thurs at 10.00am, Gentle Yoga & Meditation.

Weds at 7.15pm Evening Yoga and Yoga Nidra.

Natalie Gray still has a 60 minute Vinyasa Class on SATURDAYS at 10.00am
I am also starting a *NEW* Monthly Rest Circle ON THURSDAY
next week, 1st April at 7.00pm. We are all prone to stress in these modern times, from full-on crazy stress, to the little day to day stresses that wear us down. Join me for a 15 minute arrive and stretch, the a 45 minute Yoga Nidra to re-set our frazzled nervous systems
Finally, after the success of our workshop with Julianne Downham, we will be holding a second Acknowledging Anxiety Workshop on Saturday April 10th at 10.00am. Please join us if you missed the last one!
As soon as we can be back at Bodnant we will... in the meantime, keep rolling out your mats, even if it is to pull a blanket over your head for a snooze!!

AND WE WILL SEE YOU ON A MAT VERY SOON.....

with love and bright blessings from
Kate & Team and Cinnamon from Kitty Heaven xxx

PS. MORE INFO AND BOOKINGS FOR ALL EVENTS HERE: