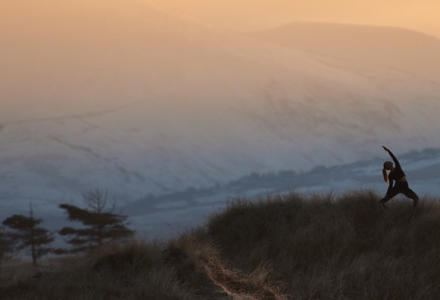 Q & A with Ayla Gowling
To introduce you to the Dream Team here at Bodnant, I have put together a cheeky Q & A to get under their skin and see what really makes these guys tick and what they bring to their classes. Read on...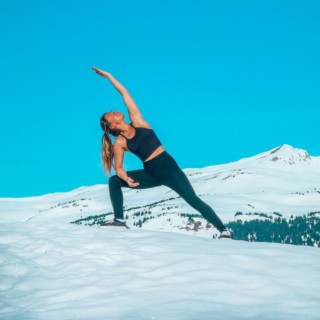 1. What do you teach?
I teach a variety of different classes. I completed a 200 hour Mutli-style Yoga Teacher Training as I wanted to learn more about all the different styles of yoga. I now teach a combination of Hatha Yoga, Vinyasa Flow and Yin Yoga. I like to mix things up, and feel that by offering a variety of classes, my students can then decide what they prefer, or maybe they like to do a little bit of everything, like me!
2. How did you first discover your chosen discipline and what kept bringing you back, so much so that you decided to train to teach?!
When I first discovered Vinyasa flow, I would go to classes around North Wales and I just enjoyed moving my body in a way that felt good. I ended up travelling around the world as a Surf Instructor and began to practice more and more. Whilst working in South-France I was working at a Surf Camp that offered yoga to our guests; I was practicing everyday and eventually thought, I would love to learn more and teach this to people too! And from then I decided to study, learn and share this wonderful practice with whoever was willing to join me. I ended up really enjoying teaching Hatha and Yin, as they connect to me the most.

3. Where have you trained, and with who?
I trained with Green Yoga International, a beautiful Indian Yoga School on the island of Mallorca, Spain. It was an intense month, but I loved every moment of it. I discovered so much about this incredible ancient practice, and I also learnt so much about myself.

4. How long have you been a student? How long have you been teaching?
I have been practicing yoga for over 7 years. I think I took my first ever Yoga class in Llandudno when I was about 22. And since then I have dabbled in and out. I take part in a lot of different sports and activities, I am a surfer, rock climber and snowboarder. But I always make time to come to my mat, to calm my mind and release tension. Over the past 3 years I definitely made yoga a priority. I wanted to learn as much as possible about this practice and way of life. It wasn't until September 2020 that I did my YTT. Since I have been qualified, I have mainly been teaching private 1:1 classes, and lots of online Zoom classes over lockdown too.

5. Who are your greatest inspirations in the world of Wellness?
My biggest inspiration would have to be my Guru Atma, he lead the Yoga Teacher Training at GYI. He is an Indian man who has so much love, knowledge, wisdom and kindness in his heart. He inspired me to eat healthier food, to look after myself, to love myself and be kind to myself. He lives a very simple, but very fulfilling life, and I have never been so inspired during the presence of someone. I also follow lost of professional surfers who promote healthy living and protecting our oceans - something that is very important to me.
6. Describe a typical class with you…..
I always start my classes with a few moments to ground yourself. To connect to the breath, and to check-in with how you are feeling (physically, emotionally and mentally). Without judgement. Just noticing.
If it is more of a movement based class (Hatha or Vinyasa), then I start with some gentle warm ups, before moving onto Sun Salutations and a standing and seated sequence. Throughout the class, I provide modifications, and options for people to explore their way through their practice - to take it a bit easier, or perhaps challenge themselves - whatever my students are feeling. I try to let them know that it doesn't really matter what I am doing, or the other people in the class, their practice is for them. I then like to slow the practice right down towards the end of the class. I love a long savasana, to really allow time for people to relax, to allow the physical practice to settle into the body. In my Yin classes things are a little different- these are very relaxing throughout, but not always easy. We really get deep into the connective tissues in the body, and we try to remain as still as possible. I often tell stories, or use guided meditations and visualisations throughout the Yin practices. But no matter what class I am teaching, I always try to remain calm, reassuring and present. To help my students to get as much as possible from the session.
7. Are your classes suitable for beginners?
Yes all of my classes are suitable fot beginners! In my personal practice I love to challenge myself (although not always! Some days I simply take a Childs pose, some deep breaths and that is my practice for that day). Other days I am working on more advanced postures such as headstand/ forearm stand, king pigeon, or deep backbends. But in my classes I like to offer options. I cannot do every single yoga pose in the world. And that's OK. My students will be given options to explore and see what happens in a safe and controlled way. Never pushing themselves, but being open and willing to try and fail. I tell my students that it doesn't matter how a pose looks- only how it feels. Of course alignment is important, but I never teach for aesthetic reasons. Only go for what feels good, and go to where your body wants to go - not where you try to force it to. Beginners are always welcome to my classes, because we are all beginners in some sense, just at different levels ;)
8. What is your core belief, driving principle or passion that drives you and that you bring to your classes in order to help people?
Life is about feeling happy, feeling your best. If I can help people to do any of these things then that is all I could ever ask for. I get so much joy from seeing other people happy, calm and content. I went to University and graduated with a Physical Education degree. I did my work experience across schools in the UK. I also volunteered in schools as a sports coach in Ghana, West-Africa. I taught gymnastics and hockey to children in Australia. I taught people how to surf in Mexico and Barbados, and now I am teaching yoga to people in my beautiful hometown in North Wales. I have always had a passion for teaching people - it's all I have ever wanted to do. And with yoga, I feel like I have truly found my calling. I hope to help and inspire people through the practice and way of life of a Yogi. If my students are ever stuck, or have questions, or simply need someone to talk to, I am also always here. I pride myself on being a professional, and I always strive to offer an excellent service and experience. But I am also only human - and that human connection is most important aspect above all else.
9. Do you also offer any therapies or mentoring?
I don't have much experience in this area. But what I do know is that a regular yoga practice can be life-changing. It may take a while to get into it, because honestly there is so much more to yoga than moving around those 4 corners of a mat. But the more you come, the better you get to know yourself. And you can truly make a difference.
10. How are you keeping yourself happy, healthy and sane in this crazy world we are living in right now?
Well it's not easy! Life is full of ups and downs. And this past year has been the most difficult of all. I have found that Zoom classes have been amazing, as I could still see the lovely faces of my students, and feel that sense of yoga community. I have also tried to get outside for lots of walks and bike rides (fresh air does wonders for the soul). Also having some chocolate in the evening, that always makes me happy! :)
11. Any pearls of wisdom you would like to share with us today?
Take a moment to unclench your jaw, soften your forehead, relax your shoulders and breathe. Enjoy :-)
Also remember that the yoga community is filled with loving, compassionate, supportive people who are driven to make a difference. If you want to ask your yoga teacher or a fellow practitioner a question, then ask them. I guarantee they will be very happy you did.
Thank you…Namaste xx
Please check out the links below where you can find further information and connect with me on social media!
Website: www.ayla-yoga.com
Instagram: https://www.instagram.com/ayla_yoga/
Facebook: https://www.facebook.com/aylayogastudio