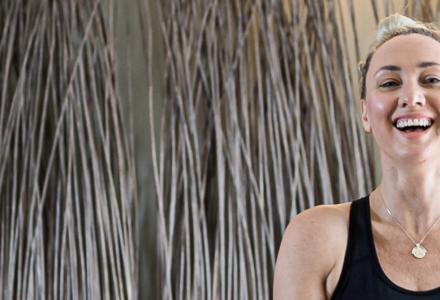 Q & A with Natalie Gray
To introduce you to the Dream Team here at Bodnant, I have put together a Q & A so we can get under the skin and see what really makes these guys tick and what they bring to their teaching. Read on...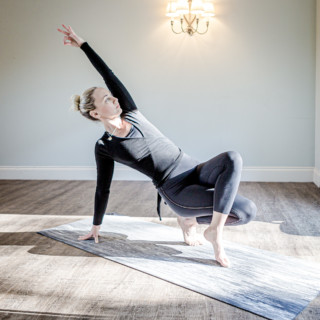 Introducing Natalie Gray....
1.What do you teach?
Vinyasa Flow and Yin Yoga.
2. How did you first discover your chosen discipline and what kept bringing you back, so much so that you decided to train to teach?!
I had been practising on and off for a few years and then around 10 years ago I started to go to The Life Centre in Manchester and was introduced to some great teachers who really pushed and challenged all that I thought I knew about Yoga. I had always approached my practice from a physical side and loved the Yang style of practice where it was super fiery and sweaty as I loved floating out of classes on a Yoga high and physically feeling great, but then I realised the emotional and spiritual expansion I was undergoing wasn't a coincidence and from that point on the physical part of practice became secondary for me. I got deeper into my practice and came to a bit of a personal cross road where I needed a bit of a factory re-set, so I enrolled on an Intensive Yoga TTC to start the new year (Jan 2017) in India. I came back with and open heart and an open mind and the tools to start my yoga teaching journey.
3. Where have you trained, and with who?
Sampoorna Yoga, Goa, India For both my 200hr Ashtanga Vinyasa and my Yin TTC.
4. How long have you been a student? How long have you been teaching?
Student for 15 years, and Teaching for 4 years.
5. Who are your greatest inspirations in the world of Wellness?
Paul Grilley – I'm currently in the midst of his Chakra Theory and meditation online seminar and of course his approach to Yin is very inspiring.
I really like the Do Book Co – the books are so easy to read and the messages stick with you for a long time.
Tamara Driessen – She's just launched the book Luna, which is about harnessing the power of the moon.
6. Describe a typical class with you…..
I really like to break things down and make it easy to understand, Vinyasa can usually be quite fast but I start with the basics and gradually build up around a simple core flow and then for my regular students I like to add in some extra personal challenges along the way. But really I aim for a functional approach and always modifications to make things accessible, I want my students to feel like they have been able to practice with confidence but also have the sense they have achieved trying something new, and always walking away with a smile.
7. Are your classes suitable for beginners?
Yes absolutely, I really aim to make them accessible to all.
8. What is your core belief, driving principle or passion that drives you and that you bring to your classes in order to help people?
I want to de-bunk they myth that you have to be flexible to practice yoga. This is absolutely not true. If you are not naturally flexible (I definitely wasn't when I started) then flexibility comes as a by product of many years of practice. I think its better to describe practice as a moving meditation focusing your emotions, thoughts, beliefs and spirituality (if you are that way inclined) and giving us some all important space, that pause from our hectic lives so we can function better day-to-day as humans. And maintain and improve our physical health at the same time, which is a bonus. It's a balance of Strength (both physically and mentally) and flexibility.
9. Do you also offer any therapies or mentoring?
Sadly not yet, but I'm a great listener!
10. How are you keeping yourself happy, healthy and sane in this crazy world we are living in right now?
I've tried to create my own sacred space at home that I can practice yoga and plan my classes, lots of reading, listening to music and making sure I do every outdoor activity possible – Walking, Cycling, Kayaking – and appreciating that even though the outside world seems so crazy, we have all had this universal pause forced up on us and I hope that this slower approach to the every day is sustainable and we continue to share the love and community spirit that has prevailed.
11. Any pearls of wisdom you would like to share with us today?
Let go of the past, don't worry about future, and exist in the present moment.
It's easier said than done but at least if we remind ourselves daily then we have some chance of this becoming a reality. Oh and Love is the answer.

You can connect with Natalie on:

Instagram: natalie_gray_yoga_
Facebook : nataliegrayyoga
email: namaste@lunaryoga.co.uk