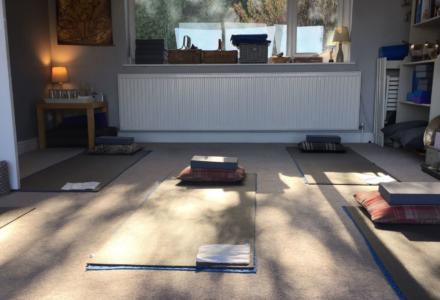 September 2020 Newsletter
Copy of my Newsletter sent out in September 2020. If you would like to receive monthly news from me, please fill out the form on the menu to the left 'Newsletter'. Thank you :)
"The secret of change is to focus all of your energy, not on fighting the old, but on building the new."
Socrates.
On Thursday March 12th 2020, I set up my yoga studio in my house in Glan Conwy and sat down to wait for my students to arrive. The sunlight was so beautiful coming in through the back window, that I took the photo above... Little did I know that this would be the last class that I would ever teach in my home studio!

The following Monday (March 16th), I washed and cleaned yoga mats, I removed blocks, straps and eye pillows and set up hand sanitizer in the hall.
But by Monday evening, I was messaging all my WhatsApp groups to cancel all classes indefinitely as the 2 metre rule was put in place by the Prime Minister.
By the time I had finished messaging, I was in floods of tears.

The world changed that day, for everyone.

And here we are today, still being buffeted by CHANGE.
When I completed my yoga teaching training in Bethesda at the Dru Yoga centre in 2013, the founder, Mansukh Patel said to us eager graduates:
'REMEMBER: Change is the only Changeless Law'
The only thing you can guarantee to happen in your life is change! So, let's focus our energies on building the new; rolling with the changes that are bound to come as the world keeps adjusting to the Covid situation; be willing to adapt, and to be OK with Change.

MASKS / FACE COVERINGS
Last Friday, the Welsh government announced more changes to prevent the spread of Covid, and here at OM YOGA, at Bodnant Welsh Food, we will be taking the advice on board.
We will be adopting the new ruling on wearing face masks or coverings, but ONLY as everyone arrives, as the teachers meet & greet, as we move to the Pochin Room and roll out our mats. Once we are all on our mats, we can take off our masks, the windows will be open, sun shining (fingers crossed!) and we can enjoy our class. If we move around the room, go to the toilet and as we get ready to leave, then it will be masks back on, as we all move around each other again.

LIMITED SOCIAL GATHERINGS
Having checked the gov.wales website, the restrictions on indoor gatherings says:
"No person may, without a reasonable excuse, gather in premises indoors with any other person apart from the members of their household"......"A reasonable excuse includes the need to do the following: exercise with others, in a gathering of no more than 30 people, at a fitness studio, gym, swimming pool, other indoor leisure centre or facility or any other open premises."

So, we have checked with similar facilities in the area and they all are continuing to offer movement classes, with the 2 metre distancing between people and mats. We have been doing this for our first week at Bodnant and it has been working very well. So no change there, just get yourself a funky mask, or use one of ours, and come and join us at Bodnant Welsh Food.
We have 8 movement / wellness Teachers and by October 7th we will have 23 classes per week... there must be at least one that will be just right for you!!

Join us for:
LOTS of YOGA
QiGong Taster Sessions
PILATES
Men's STRETCH Class
Female FITNESS
Kids YOGA CLUB
Family YOGA
Seniors & Chair YOGA
And much more to come!
Thank you for being here, through thick and thin... and for being part of a growing community. The more we come together to focus on our own well-being the more we have to give to others and to the world!
Namaste everyone,
Kate xx
P.S - All these AMAZING classes can be booked right here ...
https://bookwhen.com/omyoganorthwales
To check all the Welsh government guidelines on numbers indoors, here is the relevant document:
https://gov.wales/sites/default/files/publications/2020-09/the-health-protection-coronavirus-restrictions-no-2-wales-regulations-2020-as-amended.pdf
To check all the Welsh government guidelines on face coverings, here is the relevant document:
https://gov.wales/face-coverings-guidance-public#section-43640

PPS. Here's your Dream Team, waiting to welcome you at Bodnant Welsh Food!