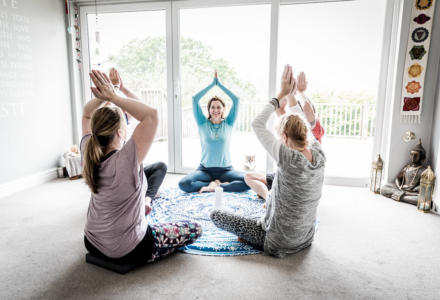 TWO new classes for 2020
In 2019 I have been running a monthly meditation class and a monthly yoga nidra class. For 2020 I have decided to combine the two and include some gentle yoga to help us all wind down from a busy week and glide into the weekend.
Chill Out FRIDAY - early evening class.

This will be a monthly class to wind down ready for the weekend… a 90 minute mat-based class – once you arrive and lie down, you don't need to get up again for 90 minutes!!
We will use props fro some Restorative and / or Yin postures, Meditation with Mudras and Pranayama, finishing with a nice long Yoga Nidra. Finishing at 7pm so still time for a Friday night out on the tiles.
Class will 5.30pm – 7.00pm one Friday every month.
Yin, Yang & Yoga Nidra SATURDAY – extended class.
Once a month I run a Zest Life Yoga Retreat on Anglesey but every other Saturday, I have been running a popular Saturday morning class. My students love it as a energising start to their weekend, and for people working all week, it is a morning for themselves to re-charge their batteries… Since I completed my Yin Teacher Training at The Yoga Bank, I am keen to share this wonderful practice so this class will one hour of YIN YOGA – the Quiet Practice, in which we allow gravity to take the body into our deep tissue stretches. Then one hour of YANG YOGA – this is where we have to use muscular effort to make the body stretch and hold our weight. After that 30 minutes for a very juicy YOGA NIDRA. This practice takes you into your sleep brainwaves but feels more like a meditation. You are invited to set a Sankalpa to rewire the subconscious mind and you can also dive into your intuitive mind for answers to current issues in your life.
Class will be 10.00am – 12.00pm on Saturday mornings.