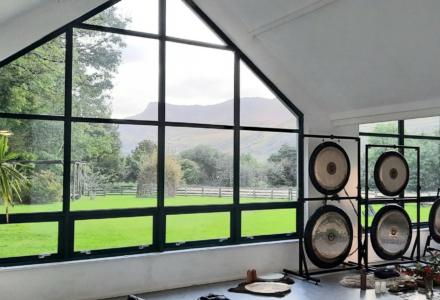 Refresh & Renew Yoga & Meditation Retreat
Please join me at Trigonos in Snowdonia for this Summer retreat where you will
be invited to rest deeply, move gently and enquire within. Our focus for this 5 day retreat will be working with the Chakra Energy System PLUS extra special event included in this 5 day retreat is a Gong Bath with Steph Healy from Pure Sound.

You will enjoy Yoga, Meditation, and Yoga Nidra in this most beautiful setting.
JUNE / JULY: Monday 27th - Friday 1st

Starts: 27.06.22 at 16:00
Ends: 01.07.22 until 14:00
Book Now
Nourish & Nurture Yoga Retreat

Monday 27th June 4.00pm - Friday 1st July 2.00pm

I am so looking forward to welcoming you to my third retreat at Trigonos in the heart of Snowdonia. You will be welcomed into a very special place at Trigonos. The retreat centre is set next to the Nantlle lake, the yoga room looks out and up to the ever-changing vista of Snowdonia and the bedrooms are warm and cosy. The menu is vegetarian with plenty of options for people with dietary requirements.

In our sessions, we will go on a journey together, through a wide variety of Yoga practices. Firstly enquiring within, what is out of balance? And then working gently and compassionately to restore our inner equilibrium.

You will be introduced to / go deeper with
Gentle Hatha and Yin Yoga
Breathing Techniques
Chakra Balancing Practices
Intention Setting

Mudras
Meditation
Yoga Nidra
Singing Bowls
Mantras
Journalling
Recordings of the Meditations and Nidras to use on retreat and at home afterwards.
Time for yourself to rest or walk in the grounds and by the lake.
(Swimming in the lake is permitted, but at your own risk.)
On Tuesday afternoon, you will be treated to a Gong Bath with Steph Healy. Find out about Steph's work with sound healing here: Pure Sound
This retreat is open to anyone who is interested in personal growth and going inward to tap into their inner wisdom to move them forward in their lives. No previous experience of any of the list above is required!
In my experience running over 60 retreats for The Zest Life since 2016, a retreat with two or three full days in-between arriving and leaving gives much more time and space to settle in, let go of stress and tension, reflect, re-focus and then leave, feeling inspired, re-energised and ready to step into a new paradigm in your life, full of purpose and renewed energy.

If you would like to know more about the venue, please visit Trigonos

The price of the 4 day retreat is:
£600.00 per person for a twin room with en-suite.

£655.00 for a single with en-suite.

A non-refundable deposit of £150 is required to secure your booking. The balance may then be paid in instalments with the full amount will become due by 30th May.

Once payments are made they are non-refundable, if you have to cancel, for any reason. However, if we are able to find someone to take your place, a refund will be made minus your original deposit.