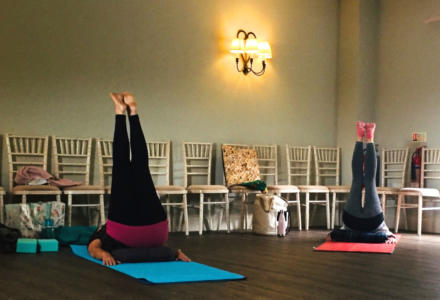 Covid 19 Protocol
After months of staying at home, baking, doing jigsaws, walking around the block once a day, zooming friends, family and yoga teachers, it's time to emerge....

What we are doing to make classes safe...
Here at OM YOGA, we are keen to get back to classes in September 2020. We feel that the physical, mental and emotional benefits of our classes and events will really help us all to re-balance after such a disorientating period. Let's come together to support each other!
It is important to remember how much MOVING, BREATHING and MINDFULNESS supports our immune system and sense of well-being. So let's get back to our classes or start a brand new routine! But let's do it in such a way that everyone feels safe and happy.

Our top priority is the welfare of our students and teachers and we ask that you keep track of the latest advice and information from the Government and help us to run our classes in the best way we can for all concerned.

What are we doing at OM YOGA / Bodnant Welsh Food:
Between each class we are spray mopping the Pochin Room floor, and the slate floor by the shoe rack. We are cleaning all touch points, eg door handles, tables, and all surfaces in the bathroom.
We have to ask that you bring all your own equipment to classes. We have a Class Kit List for you to tick off, and you can order the basics from OM YOGA CLICK HERE.
We will only be using the Disabled Toilet.
Class sizes will be small while the 2 metre rule remains in place here in Wales, and we will mark out each student's position in the class so that everyone feels safe.
Teachers and students are required to wear masks as we arrive and leave, but they are not required during your class, so once on your mat and settled, you can remove your mask. If you need to move around the room during class, please pop your mask back on.

We are socially distancing as we arrive and leave the building.

How can you help:

Keeping up to date with current Government and WHO guidelines is the best way to stay abreast of developments and changes in procedure. Government guidelines are recommending if you have any symptoms of Coronavirus, then you are to stay at home and not leave your house for seven days from when your symptoms started. Equally, if you are told you have come into contact with someone with a positive test result, please stay at home for a minimum of 10 days.

For students returning to classes, please follow these guidelines:
If you have any cold or flu like symptoms, or recently travelled to any places listed : https://www.gov.uk/guidance/travel-advice-novel-coronavirus ..... then please don't come to class for 7 days.
We won't be sharing equipment with students, so please gather all you will need for your classes and keep all your yoga kit stored safely between classes.
Please wash your hands before you leave the house; there will be hand-sanitiser for you at the door if you haven't been able to wash your hands. Wash your hands again after each class.
Please avoid congregating at the door and shoe rack as you arrive and leave.
Greetings: we must adhere to social distancing to protect our loved ones, so we will adopt the Anjali Mudra – hands in pray position - head bowed – Namaste!
Bring tissues with you to class, cover your mouth and nose with a tissue if you cough or sneeze, and make sure the tissue is disposed of in a bin straight away.
There will be no hands-on adjustments in any of our classes.
When you get home after class, clean your mat / blocks with sanitising spray and a cloth. Allow them to dry before storing.
Remember to practice a little bit of what you have learned each week, with positive intention for your own health, resilience and well-being. And.... Stay Safe!
Up To Date info from OCTOBER 1st in the County of Conwy, please read and familiarise yourself the following guidelines: CONWY
Exercise classes are allowed to continue, as long as all Covid procedure is followed.