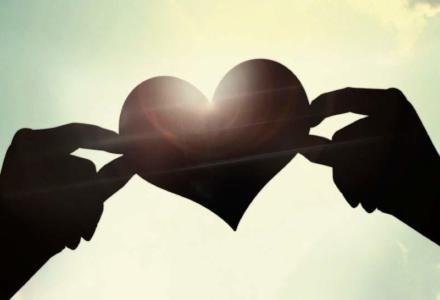 Testimonials
If you are looking for a Yoga Teacher, Therapist or Retreat experience, the best way to find what you are searching for is to get a recommendation... so here are some words from my regular yoga students and retreat guests on how they feel about my teaching style and presence.
Yoga Class Students
"I've been attending Kate's yoga classes for many years. To put it very simply, it's the best. Just give it a try, you won't be disappointed." Lynda Marson


"For me your class is like a sanctuary away from the busyness of life. It's the only time in my daily life that I take time to reflect, rest, restore & revive. You are a wonderful teacher, so calm & serene & have an amazing ability to connect to us, with whatever is going on in our lives. You make so much effort to create a beautiful atmosphere wherever you go, where I feel safe & held, valued and at peace." Suzy Morris


"Kate's classes are both a physical and emotional workout, and I always leave our sessions with a feeling of inner peace and balance. I've found that my approach to life has changed, and I no longer allow stress to rule my life.
And the venue at St Grwst Church is truly sublime. A feeling of peace and tranquillity greets you at the door and adds to the calm of Kate's classes". Kim Ellis


"Upon meeting her for my first lesson I felt welcomed and immediately at ease with her. She has a nice soothing voice that is ideal for yoga nidra, which makes finding that special place of relaxation in yoga nidra all the more easy. I really can't say enough good things about her, I would highly recommend attending one of her yoga classes." Richard Harding


"Kate has taught me the benefits of practicing regular yoga over the past several years. She brings a full and diverse knowledge to her teachings, often adding to and varying the classes while reminding her yogis the methods to protect from injuries & listening to our bodies. The sky's the limit to improve yoga practice with this teacher's enthusiasm and joy for a better life that she brings." Dr. Kent Hill


"I love Kate's yoga classes. So much of my life is spent speeding around, and I hadn't realised until I started her classes that I (we all) need something that balances our hectic lives. She somehow knows exactly what I need to recharge my body and mind. I look forward to every class." Hannah Price


"Kate brings compassion, warmth and humour to her classes. She is so knowledgeable about all things yoga, ensuring that she can tailor her classes to everyone, regardless of experience and physical ability. I always leave her classes feeling relaxed yet exercised such a great combination. She is good at explaining about the body and how it is working but in a way which is relaxed and flows naturally as part of the class. Her classes are safe and always welcoming." Liz Liddall


"From yoga virgin 6 months ago, a weekly class with Kate is now part of my weekly diary - lovely gentle practice, great for my body and mind - highly recommended." Peter McKenzie


"The thing I love about Kate's Classes is her professional and mindful in her approach, her class is friendly, welcoming and she makes you feel at ease whatever your level of ability. Each yoga pose can be modified to meet the needs of anyone with disabilities- and there is no judgement. I always feel energised, balanced, calm, refreshed, and grounded after Kate's class." Catherine Farr

"I can't tell you how much I'm enjoying Kate's Yoga class, been home for 40 minutes and I'm still outwardly sighing contentment" Jan Bertenshaw

"During the classes Kate encourages you to achieve your full potential
at your own level gently but with lots of stretches. Each week is
exciting as it's always different but following a theme. Each class ends
with meditation and relaxation." Sarah Clarke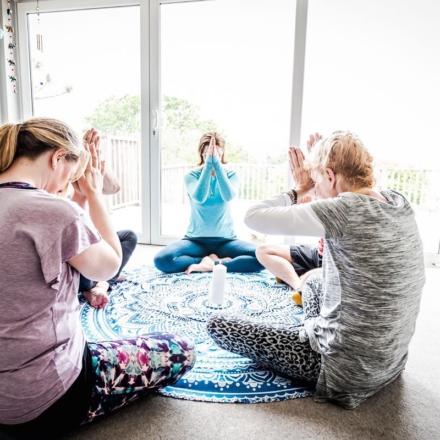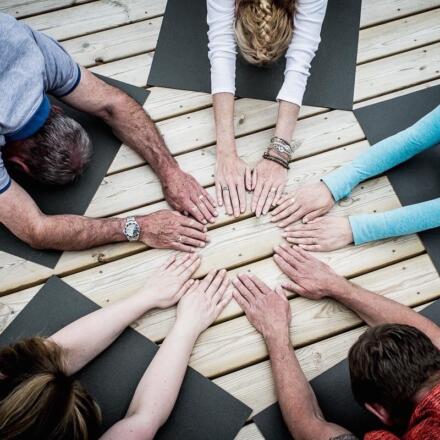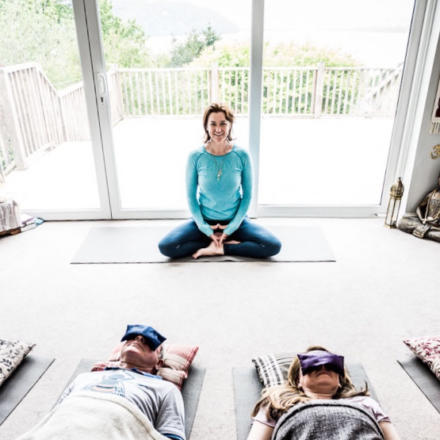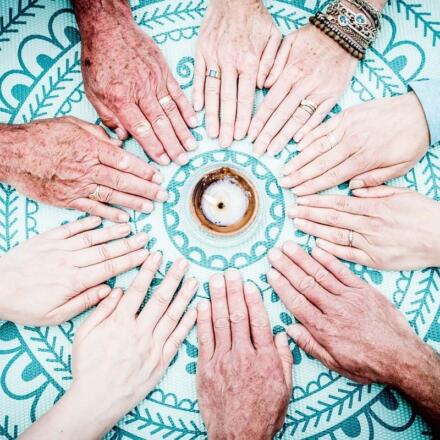 Yoga Retreats at Trigonos
April 2022
"Kate is a wonderful, patient teacher with so much knowledge to share. She has given me the tools I need to cope with a difficult period of life. I genuinely cannot wait to come back to another of Kate's workshops, classes or retreats." Sam Piddington


"I really enjoyed the retreat and was so glad I booked it at the last minute. It gave me some time out and was a restful and refreshing experience in a beautiful location…. What more could you ask for?" Susan Samuel


"A rejuvenating retreat! Kate is a wonderful teacher, with many creative and nurturing ways to bring peace and calm into your life. You'll be gently held and guided through yoga, breathing, Yoga Nidra …. Hidden gems that will restore your body, mind and soul." Karan Walsh


"Thank you for a wonderful, perfect retreat! Kate is knowledgeable, kind and an open teacher. I can highly recommend OM YOGA Retreats to all. I will be doing it again!" Danica Maier


"A very special four days with like-minded people from all walks of life. Certainly no need to feel worried about being accepted, even if your yoga practice is in it's early stages. Something for everyone." Barbara Day


"If you're looking for an opportunity to perfect your handstand for your Insta feed or power through hours of vinyasa, then this isn't the retreat for you!
But if you're looking to be nurtured and held in a safe, sacred space… if you want to be offered tools to guide you through life; to learn about the more spiritual side of yoga whilst practising accessible asanas, then Kate is the teacher you've been looking for." Tamzin Walton\

"Amazing venue… so tranquil… peaceful… the perfect setting. The content of the retreat has been wonderful… Kate has packed so so much into making this a magical retreat. The sunset on the mountains changed the Tuesday evening session for me… enhancing the magic of the kirtan! I would definitely love to come back" Gaynor Lane
June 2022

"Kate is inspirational and knowledgeable in so many areas. I wholeheartedly recommend to anyone thinking about a retreat – Kate and Trigonos are a great combination." Angela Horner


"This was my first yoga retreat and wasn't really sure what to expect but I absolutely everything about the retreat far exceeded my expectations. I am already looking forward to booking a space on Kate's retreat next year!" Chris Ratcliffe


"The retreat surpassed my expectations. Kate's knowledge and passion for all things Yoga and beyond is inspiring. I found the retreat unexpectedly, it was everything (and more) that I didn't know I needed! I am leaving refreshed and renewed" Sharon Cook


"From the moment I arrived, Kate made me feel safe and welcomed. The timetable was just right, giving enough time to reflect, the classes flowed and my passion for life has been re-ignited. The venue was, without doubt, one of the most beautiful retreat spaces I have seen. The food was delicious and catered for all dietary requirements. I am leaving with love in my heart, new friends and passion!" Sandra Czachur
"Kate's retreats are very special. She generates such a calm, relaxing atmosphere. She is so knowledgeable and transmits her knowledge of all things Yoga in a way that is easy to absorb and understandable. I have met some wonderful people. A special experience." Liz Liddall


"A fabulous restful and invigorating retreat. Kate's style of yoga oozes kindness. Would highly recommend to anyone." Aine Ferguson


"This has been a really beautiful and profound experience for me. It was exactly what I needed to restore and reset as I go forward and find my life's purpose (and I feel that I finally 'get' Yoga! I really enjoyed swimming in the lake every day – pure joy! Met some wonderful fabulous like-minded women too!" Jane Townsend-Emms


"I felt nurtured and safe in the sessions with Kate. Finding a light is a sea of darkness and the guidance to continue moving towards the light." Tracy Warner

September 2022
"Kate has a remarkable ability to create a safe, friendly and nurturing space. I learned so much, both about a varied yoga practice and about myself. And I have the tools and motivation to carry on the journey. Thank You!" HG


"I felt nurtured and safe within the enclosed and loving guidance of Kate. Finding a light in a sea of darkness and the guidance and strength to move towards the light." TW


"Wow! An amazing experience with a lovely group of people. Eye-opening, heart-opening, spirit-opening! I'm coming back Kate – watch out!!" UM


"Kate is a very positive and friendly lady who makes everyone feel so relaxed and at ease." Louise Horton


"Everyone needs time for introspection and this is a wonderful way to connect with yourself and others." SLT
February 2023
"Kate is a true yogi. All that she shares comes with integrity as she is her authentic self, looking to guide you to find yours. Trigonos is a magical, spectacular place which holds you in its mountain majesty." Peter Jones


"I had a wonderful time on the retreat. A perfect mix of yoga, meditation, eating lovely food and meeting new people. Trigonos is such a beautiful, peaceful place. Kate is a brilliant yoga teacher, with perfect instruction and inspiration. I feel truly blessed to have had the opportunity to attend." Jackie Wise


"Kate exudes kindness and warmth. Her wealth of experience enables her to pass on her skills and knowledge in clear, precise ways which allowed me to deepen my yoga practice and I feel truly relaxed and at peace. Thank you so so much." Carol Gadd


"I really recommend to anyone to give it a try! I wasn't really into meditation or yoga before, but this experience changed a lot of things – how I react and receive." Attila Jonas


"Trigonos is the perfect place to retreat and learn. Kate's teaching is excellent – highly recommended. I slept like a baby and feel rested and relaxed." Jayne Burke


"I have loved this retreat. Thank you for everything and for teaching me in a way I could really understand. I would recommend this to everyone! I loved that gifts of the crystals and journal and I loved the Journal Prompts. Overall an amazing experience." Jenna Taylor


"Beautiful, serene setting. This alone does not guarantee relaxation – however Kate's gentle, unassuming manner puts you instantly at ease. She is there to support you if needed – and she usually senses this – but also leaves you to your own private relaxation if that is what you want. Perfect retreat away from everything." GW


"Kate is amazing. If you are looking to find yourself, a break, to connect with your inner self, revive and rejuvenate, this is where your search stops! I will definitely be coming back. Thank you Kate and Trigonos." Neha Jonas

"Great introduction to yoga and breathing techniques for beginners and people who do yoga regularly. Kate is a warm and welcoming teacher." AG

April 2023

"The retreat was so special, it's hard to describe it in words. This is not an exercise class or a mini-break, it is about learning to experience life in a way that heals and nourishes and enables you to move forward." Tamzin Walton


"Fabulous relaxing few days. An opportunity to step out of your life and relax in a stunning setting. Lots of help to delve into the deeper aspects of yoga and how to build it into your life. Kate is a fantastic teacher." Fliss Aries


"Kate's retreat renews and restores in so many various ways. Like levels or platforms of release, she aids in peeling away what is not needed and restores what is. I came to my first yoga retreat last year with Kate and with no expectations. This is my second year, and it has already become a vital part of my annual cycle of life and living in a meaningful and deep way. The sessions' pace, sharing and the yoga space at Trigonos are perfect and the results are powerful." Danica Maier


"This is my first retreat with Kate. I came with an open mind and no pre-conceived ideas. My first impression was 'What a lovely lady with a soft, kind voice. I am going to enjoy this!" The sessions were amazing! Kate was very gentle with us, giving instructions that are crystal clear. The Sound Bath / Meditation on the last evening was the most wonderful experience of my whole life! To be so still and to be in total contact with my soul – words cannot describe how that felt! Thank you, Kate, you are an amazing healer. The group work outside was so powerful, it unlocked everything that was blocked. Total Release!" Jean Piddington


"Such a wonderful event! Kate's knowledge and diversity is vast. It's fun, it's organised, and flexible and of course, very professional. I have loved every second. Thank you Kate. Would I come back again? … most definitely! So much to learn, so little time!" Gaynor Lane


"These few days with Kate have been perfect. The yoga, meditation, sound baths and most importantly, Kate and the other participants have been wonderful and have provided incredible community, healing, rest and grounding." Leo Hall


"As a newbie to yoga, this was a fantastic introduction. Such a valuable experience, expertly put together in a sensitive and caring way. I really enjoyed the variety of different yoga styles and varied activities that Kate put together. Thank you for sharing your extensive knowledge on yoga and meditation practices. The week has been so much more than I expected!" Jon Hall

"Kate is such a wonderful, patient and knowledgeable teacher who takes the time to share her teachings passionately and thoroughly. I wish I could spend more time learning from her each day!" Sam Piddington


"Such a nourishing four days! Time stretched and we embarked on a gentle journey of self-enquiry – collecting gifts and treasures along the way. Kate holds the space with such love and intention that anything is possible… I returned home revitalised, with new tools in my wellbeing kit – very grateful!" Annie Woolf
July 2023
"A brilliant balance of yoga, meditation, relaxation and free time to simply 'be' facilitated with care and compassion by Kate, who is a lovely teacher." Kath


"Kate's retreat was wonderful. She has a gentle and caring approach." Stella


"The 4 Day Retreat with Kate at Trigonos exceeded all my expectations. She prepares and facilitates all of her yoga wisdom with such love and care. In addition we experienced Crystal Bowls Sound Meditation and the last night a Kirtan – I arrived feeling tired and weary – I left with batteries recharged, ideas to contribute to my practice and so relaxed." Angela Horner


"Wonderful break – varied, energetic and relaxing – all at the same time! Kate was a brilliant and thoughtful facilitator." GB


"Fantastic retreat! Beautiful location, excellent food and a lovely combination of yoga and meditation. Kate is a knowledgeable teacher who ensures that everyone is able to participate to whatever level they can. Suitable for anyone at any level." Liz Liddall


"This is my second retreat and has been really useful to allow myself the time to regroup and refocus. Having the time to do the long Nidras guided by Kate has been really helpful. I feel re-energised, whilst feeling calmer. Kate is so knowledgeable, and a big benefit of the retreat is Kate sharing her knowledge with us all. " Chris Ratcliffe


"A very friendly laid-back atmosphere but incredibly well organised exploring many different aspects if yoga, meditation and chanting. A fun retreat with lots of ideas and tips to take home to improve self-care." Rhiannon Wyn-Jones


"Thank you so much for holding such a lovely, positive and welcoming space. It was a lovely group to be a part of. It was really just what I needed, to have a bit of time out. Thank you for your consideration and kindness, It was clear you put your heart and soul into it and we felt it! Thank you for all your energy." Jess North
September 2023
"Thank you, Kate, for a lovely few days at Trigonos. I learnt so much and you shared so much more than how to do some yoga! It was an overall wellness experience and I would highly recommend. The food, people and magical venue were amazing but your teaching style and sharing of your knowledge are what makes the difference." Beth McDonald


"Kate creates a very warm and welcoming retreat, where everyone is made to feel important. Her yoga classes are filled with a deep understanding of Hatha Yoga, which is hard to find these days. I only wish the retreat had been longer!" Charlotte Bolton


"A wonderful few days – recharging and relaxing in a stunning, blissfully peaceful settings with the most amazing food. Thank you!" Helen Hanby


"An amazing restorative retreat with a wide variety of sessions and a great balance of time for yourself. Kate is very supportive, calm, relaxed and focused on ensuring the time is tailored to your needs and goals. I'd highly recommend a retreat with OM YOGA!" Jules Johnson


"Fabulous retreat, incredibly beautiful setting, very peaceful and friendly. The yoga, meditation and sound baths were amazing and swimming in the lake was a huge bonus! Met lots of lovely people on the retreat and learned a huge amount." Dianne Freeman-Jones


"My first retreat! Kate is an amazing teacher. Would recommend to anyone looking for self-care and reflection." Jackie Butt


"Excellent! Really well thought through course, very revitalising. Your commitment and enthusiasm and good humour are inspirational!" Denny
Read About Upcoming Retreats Here