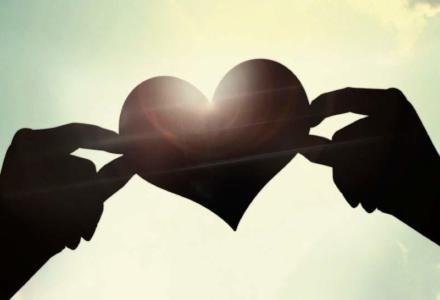 Testimonials
From buying a toaster to booking a yoga class, these days we like to know a lot about something before we will give it a go. I hope these words will help you to decide to try a class with us soon.
Testimonials from our classes at Bodnant Welsh Food.
Thank you Kate for the fabulous yoga classes at Bodnant. During Lockdown I have missed attending classes more than I realised. When I attended my first class with you at Bodnant I immediately felt 'at home' and to be honest I felt quite emotional to be back practicing yoga in such a beautiful setting with like minded people.
Your classes leave me with a feeling of calmness but also a resolve to face what's coming next. I'm new to the area but not new to yoga, I have practiced yoga most of my life and love it. You have made me feel so welcome and part of your yoga community it's put me back on track!
Lots of people chat to me before and after the classes, they are a friendly bunch at Bodnant. I'm looking forward to attending the Yoga brunch and getting to know a few more people in the coming months.
Without wanting to sound too dramatic, Yoga is a lifesaver! Thank You Kate.
Gill Boocock, Yoga Student


Thank you Kate for a wonderful Yoga experience, especially as a novice, you put me at ease on my first class. Bodnant is such a perfect tranquil venue and really enhances the benefits of our practice.
Jane Humphreys, Yoga Student


I've been a constant follower of Kate's yoga classes for a number of years now, from teaching in her home studio and village halls, but Bodnant has to be the best place! Airy and light with plenty of parking. Being two metres from each other in the room enables you to have own safe haven and allows plenty of space to carry out your stretches.
The atmosphere is warm, peaceful and further enhanced by soft background music, candles and the gentle smell of joss sticks.
During the classes Kate encourages you to achieve your full potential at your own level gently but with lots of stretches. Each week is exciting as it's always different but following a theme. Each class ends with meditation and relaxation. Thank you Kate.
Sarah Clarke, Yoga Student


I love your classes, a friend told me about them, I am very grateful! I love them and leave feeling energised but calm, nurtured and peaceful. Nice to have the social contact, (socially distanced of course) so I don't feel so isolated as I live alone.
Patricia Sharpe, Yoga Student


When I came across Kate and her yoga classes, I was searching for something, I didn't know what. I knew only that my heart was broken following the tragic and sudden death of my beloved 23 year old son almost 3 years ago. The depth of my emotional agony was deeper than an ocean and without finding 'something' the grief was engulfing me.
Kate's gentle, calming class is giving me a safe space to find the inner strength and peace I need to live alongside my pain rather than the pain consuming me, together with helping me find acceptance.
Lesley Roberts, Yoga Student


Love the class and the Pilates is helping with the stiffness I have from working in front of the computer so much. It is delivered in a relaxing, step by step class that flies by and the instructor is so friendly and welcoming. As for the location, Bodnant adds to the clam and mindfulness of taking time out from the busyness of life to make time for oneself.
Nia Thomas, Pilates Student


I can't tell you how much I'm enjoying Kate's Yoga at Bodnant, been home for 40 minutes and I'm still outwardly sighing contentment!
Jan Bertenshaw, Yoga Student


Really amazing team, offering yoga, qigong, pilates, and many other activities, there is literally something available for everyone, no matter the age or fitness level. In such a lovely location and environment too.
I really would recommend everyone to try it and see. The atmosphere is warm, welcoming and friendly and is being run safely, with the emphasis always being placed on attendees welfare.
Kate has gathered a great team of teachers around her. I am so grateful for this place.
Liz Liddall, Yoga & Qigong Student
I enjoyed the class last Tuesday but it wasn't quite for me! So this week I came to a class on Monday & really enjoyed it. It was similar to other yoga classes I've been to before. I knew that one of the fantastic selection of teachers you were offering would 'talk' to me & knew I just needed to find the right one!
The venue and the space in the room in Bodnant are fantastic in this different time. The time is perfect also as I work. The booking system is easy to navigate and understand. I also like the reminders of the class date and time. Thank you so much for bringing such a wonderful selection of teachers together at such a good venue.
Rhian Williams, Yoga Student

New to the area I've been looking for yoga classes that challenge, enthuse and relax me. Kate & Natalie's classes do all three. I enjoy them so much I plan my week around them! I have arthritis & need yoga to keep me flexible. I'm so pleased I've found OM Yoga it makes me feel settled in my new home.
Adrienne Taylor, Yoga Student


I love the venue, the view across the river along with the ease of parking. These times are certainly tricky yet Kate and Sasha come across as extremely professional with excellent leadership and time management skills. I feel safe, contained and well cared for within a group environment.
Finally, I'm so excited you're introducing a Monday morning class! It will suit me much better as I'm retired, won't have to turn out on dark winter evenings plus I will be able to enjoy a leisurely coffee afterwards. A perfect start to the week!
Jan Isbell, Pilates Student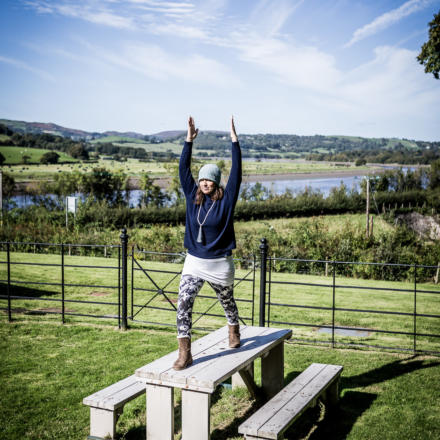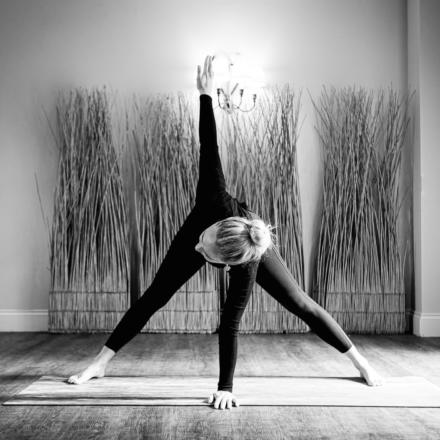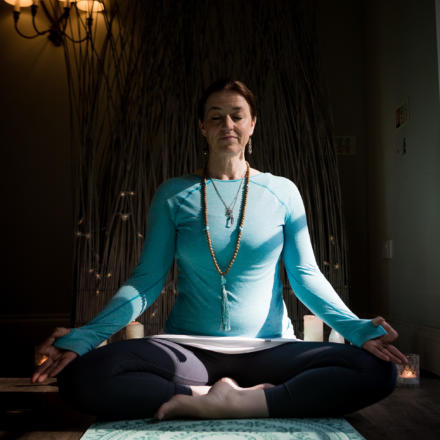 Testimonials from Kate's classes before Bodnant
I always come out of your classes feeling lighter and brighter. I very much appreciate your beautifully clear instructions and explanations, as well as quiet meditation practices to focus the mind - and all with such a lovely joie de vivre!
Sheila Davies

I really enjoy Kate's style of yoga. I also love her patience, and humour and her ability to gently encourage and motivate her classes. A wonderful experience that I feel blessed to be able to experience.

Liz Liddall
Began yoga classes with Kate some months ago at the age of 72 so don't let age put you off. Have recently had a nasty fall resulting in a shoulder injury - went to class again after only a week or so. I was confident Kate would guide me through the session suggesting alternative movements when necessary. Looking forward to being fully fit again and joining some of the Saturday workshops along with my weekly class.

Barbara Day

Kate's commitment, expertise and desire to develop her Yoga and Meditation practice is second to none, as is her desire to share this with others so that they too can find their place of inner peace and happiness. Kate's website and mail-shots nourish you from afar and make you want to return to her classes time after time.

Peter Jones

Thank you for being such an amazing teacher and inspiring me to teach!

Leisa Edwards.

Having practiced yoga for over 40 years, I was desperate to find a teacher that suited my needs when circumstances allowed me to return to a class a few years ago. I tried three or four different teachers, with different styles, but no luck, before I found Kate - and suddenly I felt as if I'd come home!! Kate's class is everything I believe a yoga class should be - stretching and strengthening, but supportive and calm and full of good vibes. It's not a workout - you can go to a gym for that! - but instead treats the whole person - mind, body and spirit - and helps me to try to be the person I could be if life didn't keep getting in the way! I always feel better when I leave than when I arrived.
Pat Frost
Kate's yoga is a holistic experience, very therapeutic for the body and mind. Essential for modern life.
Jan Clutton

I cannot recommend Kate's classes enough. Don't think about it, just come! No-one is looking at you (except Kate), you just connect with yourself and the universe. Physical aches and pains float away, emotional stresses diminish and are put in perspective, and spiritually (if you want to) you feel more open and connected.

Julia Smith

Yoga with Kate has improved my flexibility, which in the long term has strengthened my lower back (I had general lower back pain through lifestyle and nursing) I am now gardening, playing tennis and badminton. Kate not only teaches yoga moves but takes us through why we do the moves and how it can improve our posture and well-being, looking at our body holistically. I always feel rejuvenated and relaxed after a session with Kate, also at peace with myself and ready to face another day.
Sarah Clarke
Wonderful classes, welcoming and friendly, able to work to your own ability. I feel my posture has improved and I am able to use the breath to relax at home.
Debbie Lehane

Kate's yoga sessions are like mini well being retreats. I love how relaxed and personal the space feels. The cup of herbal tea at the end of every session is a lovely touch. Yoga Nidra has been a wonderfully positive experience; something very new for me. Enjoyable yoga class with a highly knowledgeable and holistic teacher.
Jenny Lockyer
Kate has brought a new calm to my life.
Helen Fitzpatrick

Having recently moved to the area I was looking for a local yoga class. Hatha yoga was my usual practice but when I read about Dru Yoga I was intrigued. I booked my lesson online and off I went. Kate couldn't have been more welcoming. It is a small intimate class and everyone was so friendly too. Kate is extremely knowledgeable and explains every move in detail, doing all the poses herself and guiding us gently through the Dru yoga poses. At the end of the class we all share a cup of herbal tea; whichever tea we have it is shared with love and chatter. I can't leave out Kate's gorgeous cat Cinnamon who loves to join in the relaxation too. I would highly recommend Kate's classes for beginners or those well practiced in yoga.
Sandra Czachur
Kate is just right in every way. The classes are well-balanced and very enjoyable. My flexibility has improved.
Lynda Marson
Thanks to Kate, the yoga classes are a pleasure to attend. The attention I have had has been so helpful and (as I am 79 years old) I have enjoyed every class and hope to continue.
Patricia Knight
Thank you Kate for an amazing first experience of your yoga class - I feel invigorated. I've never felt like this before about yoga or any other exercise -thank you.
I have been to many exercise classes in the past and after a few months I have become bored and demotivated. I've never found anything I want to stick to. That all changed in January 2017 with my first yoga class. Kate's classes are amazing on so many different levels - she is patient, encouraging, motivating and above all has a fab sense of humour. It doesn't matter what age, size or fitness ability you have you'll love her classes and you'll make very special friends. Yoga has given a new dimension to my life. Kate explains all the movements really clearly and why each one is so good for you. You feel completely uplifted after a class. Give it a go you won't regret it - why not try her workshops too? Fab, fab and more fab!

Suzanne Profit

Ace … pleasantly surprised with how therapeutic and easy-going the class is. It has helped me no end with posture and well-being.
Danny White-Meir
Kate is an energetic yet softly spoken teacher, Classes are fun and friendly and informative with lots of variety of exercise and great interaction with her students.
Donna White-Meir
Kate's Yoga Classes are amazing and have a wonderfully positive impact on my body and mind. She balances relaxation, posture work and body conditioning perfectly and all to beautiful music. The environment is perfect and Kate has an easy, natural, inclusive style that creates a feeling of calmness, strength and joy within me - a truly inspirational teacher.
I love Kate's classes; she inspires me to practise more. She is so approachable and inclusive; each class is different, in response to the ability of the group. She also explains the benefits of the movements and each lesson is an education. I would highly recommend her classes.
Jane Brown

Thank you so much Kate, you have made such a huge difference to my well-being in such a short space of time.
Andy Russell

Yoga should seriously be promoted for ladies who have just had babies as I know I would have joined a lot sooner had I known what I know now! Thank you for your fab lessons!
Cerys Arslanian
The yoga takes place in a calm, beautiful space and Kate is knowledgeable and inspiring. You can work at your own pace and are made to feel comfortable in the class. Very enjoyable and relaxing; highly recommended.
Sharon Hindley

I find the diverse aspects that Kate covers helpful and interesting. It is the only yoga class I have attended that has introduced modifications. The classes have kept me mobile and kept hip problems at bay.
Sonia Rogers
It's my favourite part of the week! I notice the difference if I miss one class. I wish I could come every day.
Tasha Flint
Kate inspires you to want to keep carrying out yoga. Such a depth of knowledge, I feel welcomed and relaxed after the session. It's time for myself to get away from hustle and bustle that life brings. Helps focus and bring you back to the present time just concentrating on you as a person.
Michelle Cornick

Coming to Kate's classes have helped me find balance and calm and I really look forward to coming every week.
Karrissa Cowan
I really enjoy your weekly classes very much - your very clear and careful instruction and demonstration of moves and poses together with clear explanations of the benefits of each one - and all with such a sense of joy! Since joining the class at the beginning of the year, I've found it hugely beneficial on all levels. Many Thanks!
Sheila Davies

Kate's classes are a fantastic experience - lovely, relaxing and toning sequences. Sessions are run in a friendly atmosphere. Kate is an excellent teacher.

Tessa Catton
Kate's voice is therapeutic and soothing, she is an experienced teacher who makes you slow down and relax. I hate missing my weekly classes. They are a real tonic.
Rebecca Sewell