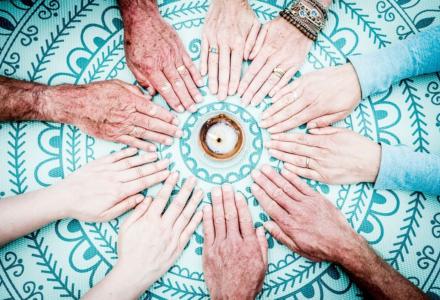 Students
Welcome to the OM YOGA hub for newbies and students alike.
Yoga Sequences for you to print off and follow at home.
Meditations, Relaxations and Yoga Nidras to listen to at home.

Videos for your home practice here on YouTube.com

Read Testimonials from my Yoga Class Students.
New Here?

Welcome to OM YOGA & Wellbeing! On my website you will find information about my classes, workshops and retreats, under the YOGA tab on the left.

You will find out about One2One sessions with me where we can use a few different healing modalities to address physical, mental and emotional imbalances - head to the WELLBEING tab.
You can read about my Training (About Kate) and Testimonials (below) from a few of the many people I have taught since teaching my very first yoga class in April 2013.

I have blog posts to share with you, where I dive deep into different themes around yoga and wellbeing. If you check out the JOURNAL pages, there are five different categories to choose from... LOTS to read... better put the kettle on then!

And you can sign up for my NEWSLETTER if you would like a little drop of yoga sunshine in your inbox once in a while....

Have a mooch around the site and if you feel like you need to ask me or approach me about anything at all, there are different ways to CONTACT me too...

And remember this...

"You may not be able to control the whole world, but you may learn to control your inner world through yoga."

Dr. Debasish Mridha (Neurologist, Philosopher, Author)

You are so welcome to join our OM YOGA community in whatever way works for you!

Kate Hamilton-Hunter

Testimonials
2022

"For me your class is like a sanctuary away from the busyness of life. It's the only time in my daily life that I take time to reflect, rest, restore & revive. You are a wonderful teacher, so calm & serene & have an amazing ability to connect to us, with whatever is going on in our lives. You make so much effort to create a beautiful atmosphere wherever you go, where I feel safe & held, valued and at peace."
Suzy Morris
"I've done yoga classes for over 30 years now and have experienced all sorts of approaches to yoga practice.
Kate's classes are both a physical and emotional workout, and I always leave our sessions with a feeling of inner peace and balance. I've found that my approach to life has changed, and I no longer allow stress to rule my life.
And the venue at St Grwst Church is truly sublime. A feeling of peace and tranquillity greets you at the door and adds to the calm of Kate's classes".
Kim Ellis
"I have been coming to Kate's yoga nidra classes off and on now for well over a year. Kate is a brilliant and very generous teacher. She clearly has a well of knowledge on yoga, and she imparts her knowledge in a respectful manner.
Upon meeting her for my first lesson I felt welcomed and immediately at ease with her. She has a nice soothing voice that is ideal for yoga nidra, which makes finding that special place of relaxation in yoga nidra all the more easy. I really can't say enough good things about her, I would highly recommend attending one of her yoga classes."
Richard Harding
"It is a pleasure for me to provide this testimonial. Kate has taught me the benefits of practicing regular yoga over the past several years. She brings a full and diverse knowledge to her teachings, often adding to and varying the classes while reminding her yogis the methods to protect from injuries & listening to our bodies. The sky's the limit to improve yoga practice with this teacher's enthusiasm and joy for a better life that she brings."
Dr. Kent Hill
"I've been attending Kate's yoga classes for many years. To put it very simply, it's the best. Just give it a try, you won't be disappointed."
Lynda Marson
"Kate brings compassion, warmth and humour to her classes. She is so knowledgeable about all things yoga, ensuring that she can tailor her classes to everyone, regardless of experience and physical ability. I always leave her classes feeling relaxed yet exercised such a great combination. She is good at explaining about the body and how it is working but in a way which is relaxed and flows naturally as part of the class. Her classes are safe and always welcoming."
Liz Liddall
"From yoga virgin 6 months ago, a weekly class with Kate is now part of my weekly diary - lovely gentle practice, great for my body and mind - highly recommended."
Peter McKenzie
"What I love about the classes are your clear instructions, including different options, explanation of how muscles work - my knowledge of anatomy has greatly improved! Also love the relaxing end to the class!"
Nerys Emyr
I love Kate's yoga classes. So much of my life is spent speeding around, and I hadn't realised until I started her classes that I (we all) need something that balances our hectic lives. She somehow knows exactly what I need to recharge my body and mind. I look forward to every class.
Hannah Price
The thing I love about Kate's Classes is her professional and mindful in her approach, her class is friendly, welcoming and she makes you feel at ease whatever your level of ability. Each yoga pose can be modified to meet the needs of anyone with disabilities- and there is no judgement. I always feel energised, balanced, calm, refreshed, and grounded after Kate's class.
I recommend coming to Kate's Classes because it helps body and mind; it improves my flexibility, helps manage stress and keeps me relaxed.
My favourite part of Kate's classes is ……
Well it's actually the whole session. For me the physical poses and correct breathing technique is important but I do look forward to the Meditation. It relaxes my mind and centres my attention and the ability to switch off and clear my mind is invaluable. I feel totally refreshed after a session.
Catherine Farr
2020 - 2021 - Bodnant Welsh Food

Thank you Kate for the fabulous yoga classes at Bodnant. During Lockdown I have missed attending classes more than I realised. When I attended my first class with you at Bodnant I immediately felt 'at home' and to be honest, I felt quite emotional to be back practicing yoga in such a beautiful setting with like minded people.
Your classes leave me with a feeling of calmness but also a resolve to face what's coming next. I'm new to the area but not new to yoga, I have practiced yoga most of my life and love it. You have made me feel so welcome and part of your yoga community it's put me back on track!
Lots of people chat to me before and after the classes; they are a friendly bunch at Bodnant! I'm looking forward to attending the Yoga Brunch and getting to know a few more people in the coming months.
Without wanting to sound too dramatic Yoga is a lifesaver. Thank You Kate.
Gill Boocock, Yoga Student


Thank you Kate for a wonderful Yoga experience, especially as a novice, you put me at ease on my first class. Bodnant is such a perfect tranquil venue and really enhances the benefits of our practice.
Jane Humphreys, Yoga Student


I've been a constant follower of Kate's yoga classes for a number of years following Kate from teaching in her home studio or in village halls but at Bodnant, this has to be the best place! Airy and light with plenty of parking. Being two metres from each other in the room enables you to have own safe haven and allows plenty of space to carry out your stretches.
The atmosphere is warm, peaceful and further enhanced by soft background music, candles and the gentle smell of joss sticks.
During the classes Kate encourages you to achieve your full potential at your own level gently but with lots of stretches. Each week is exciting as it's always different but following a theme. Each class ends with meditation and relaxation. Thank you Kate.
Sarah Clarke, Yoga Student
I love your classes, a friend told me about them, I am very grateful! I love them and leave feeling energised but calm, nurtured and peaceful. Nice to have the social contact, (socially distanced of course) so I don't feel so isolated as I live alone.
Patricia Sharpe, Yoga Student
When I came across Kate and her yoga classes, I was searching for something, I didn't know what.
I knew only that my heart was broken following the tragic and sudden death of my beloved 23 year old son almost 3 years ago. The depth of my emotional agony was deeper than an ocean and without finding 'something' the grief was engulfing me.
Kate's gentle, calming class is giving me a safe space to find the inner strength and peace I need to live alongside my pain rather than the pain consuming me, together with helping me find acceptance.
Lesley Roberts, Yoga Student


Really amazing team, offering yoga, qigong, pilates, and many other activities, there is literally something available for everyone, no matter the age or fitness level. In such a lovely location and environment too.
I really would recommend everyone to try it and see. The atmosphere is warm, welcoming and friendly and is being run safely, with the emphasis always being placed on attendees welfare.
Kate has gathered a great team of teachers around her. I am so grateful for this place.
Liz Liddall, Yoga Student


I enjoyed the class last Tuesday but it wasn't quite for me! So this week I came to a class on Monday & really enjoyed it. It was similar to other yoga classes I've been to before. I knew that one of the fantastic selection of teachers you were offering would 'talk' to me & knew I just needed to find the right one!
The venue and the space in the room in Bodnant are fantastic in this different time. The time is perfect also as I work. The booking system is easy to navigate and understand. I also like the reminders of the class date and time. Thank you so much for bringing such a wonderful selection of teachers together at such a good venue.
Rhian Williams, Yoga Student


New to the area I've been looking for yoga classes that challenge, enthuse and relax me. Kate & Natalie's classes do all three. I enjoy them so much I plan my week around them. I have arthritis & need yoga to keep me flexible. I'm so pleased I've found OM Yoga it makes me feel settled in my new home.
Adrienne Taylor, Yoga Student