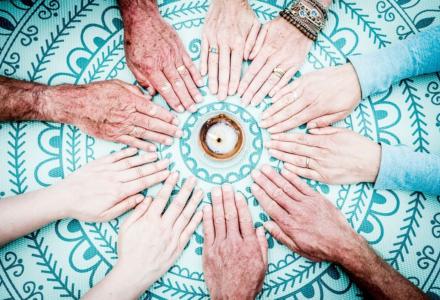 Student Resources
Welcome to the OM YOGA hub for newbies and students alike.
I have created Yoga Sequences for you to print off and follow at home.
I have recorded Meditations, Relaxations and Yoga Nidras to listen to at home.

I also have videos for your home practice here on YouTube.com

Read Testimonials from our students at Bodnant Welsh Food.
New Here?
If you have just found OM YOGA, welcome!!

Since 7th September 2020 we have a new home at Bodnant Welsh Food at the top of the Conwy Valley, here in North Wales.

After having started teaching in April 2013, it feels like the 7 year itch (not to mention the global Lockdown!) has led to this most exciting project, like a phoenix rising from the ashes! The opportunity was so exciting that I had to share it with 8 other Yoga & Wellness teachers, and we come together to create a stunning programme of classes, events, workshops and evenings, all with the aim of creating community, connections and a safe space to practice Yoga, Pilates and QiGong together.

Your first stop is to find your tribe... we encourage you to try a few different classes and teachers until you find the perfect fit and then stay! Make a commitment to come every week to class.
Then come along to a workshop, or a morning Yoga Brunch, and evening Gong Bath... and let's see where the journey takes us!

Testimonials
Thank you Kate for the fabulous yoga classes at Bodnant. During Lockdown I have missed attending classes more than I realised. When I attended my first class with you at Bodnant I immediately felt 'at home' and to be honest, I felt quite emotional to be back practicing yoga in such a beautiful setting with like minded people.
Your classes leave me with a feeling of calmness but also a resolve to face what's coming next. I'm new to the area but not new to yoga, I have practiced yoga most of my life and love it. You have made me feel so welcome and part of your yoga community it's put me back on track!
Lots of people chat to me before and after the classes; they are a friendly bunch at Bodnant! I'm looking forward to attending the Yoga Brunch and getting to know a few more people in the coming months.
Without wanting to sound too dramatic Yoga is a lifesaver. Thank You Kate.
Gill Boocock, Yoga Student


Thank you Kate for a wonderful Yoga experience, especially as a novice, you put me at ease on my first class. Bodnant is such a perfect tranquil venue and really enhances the benefits of our practice.
Jane Humphreys, Yoga Student


I've been a constant follower of Kate's yoga classes for a number of years following Kate from teaching in her home studio or in village halls but at Bodnant, this has to be the best place! Airy and light with plenty of parking. Being two metres from each other in the room enables you to have own safe haven and allows plenty of space to carry out your stretches.
The atmosphere is warm, peaceful and further enhanced by soft background music, candles and the gentle smell of joss sticks.
During the classes Kate encourages you to achieve your full potential at your own level gently but with lots of stretches. Each week is exciting as it's always different but following a theme. Each class ends with meditation and relaxation. Thank you Kate.
Sarah Clarke, Yoga Student
I love your classes, a friend told me about them, I am very grateful! I love them and leave feeling energised but calm, nurtured and peaceful. Nice to have the social contact, (socially distanced of course) so I don't feel so isolated as I live alone.
Patricia Sharpe, Yoga Student
When I came across Kate and her yoga classes, I was searching for something, I didn't know what.
I knew only that my heart was broken following the tragic and sudden death of my beloved 23 year old son almost 3 years ago. The depth of my emotional agony was deeper than an ocean and without finding 'something' the grief was engulfing me.
Kate's gentle, calming class is giving me a safe space to find the inner strength and peace I need to live alongside my pain rather than the pain consuming me, together with helping me find acceptance.
Lesley Roberts, Yoga Student


Love the class and the Pilates is helping with the stiffness I have from working in front of the computer so much. It is delivered in a relaxing, step by step class that flies by and the instructor is so friendly and welcoming. As for the location, Bodnant adds to the clam and mindfulness of taking time out from the busyness of life to make time for oneself.
Nia Thomas, Pilates Student


Really amazing team, offering yoga, qigong, pilates, and many other activities, there is literally something available for everyone, no matter the age or fitness level. In such a lovely location and environment too.
I really would recommend everyone to try it and see. The atmosphere is warm, welcoming and friendly and is being run safely, with the emphasis always being placed on attendees welfare.
Kate has gathered a great team of teachers around her. I am so grateful for this place.
Liz Liddall, Yoga & Qigong Student


I enjoyed the class last Tuesday but it wasn't quite for me! So this week I came to a class on Monday & really enjoyed it. It was similar to other yoga classes I've been to before. I knew that one of the fantastic selection of teachers you were offering would 'talk' to me & knew I just needed to find the right one!
The venue and the space in the room in Bodnant are fantastic in this different time. The time is perfect also as I work. The booking system is easy to navigate and understand. I also like the reminders of the class date and time. Thank you so much for bringing such a wonderful selection of teachers together at such a good venue.
Rhian Williams, Yoga Student


New to the area I've been looking for yoga classes that challenge, enthuse and relax me. Kate & Natalie's classes do all three. I enjoy them so much I plan my week around them. I have arthritis & need yoga to keep me flexible. I'm so pleased I've found OM Yoga it makes me feel settled in my new home.
Adrienne Taylor, Yoga Student
I love the venue, the view across the river along with the ease of parking. These times are certainly tricky yet Kate and Sasha come across as extremely professional with excellent leadership and time management skills. I feel safe, contained and well cared for within a group environment.
Finally, I'm so excited you're introducing a Monday morning class! It will suit me much better as I'm retired, won't have to turn out on dark winter evenings plus I will be able to enjoy a leisurely coffee afterwards. A perfect start to the week!
Jan Isbell, Pilates Student