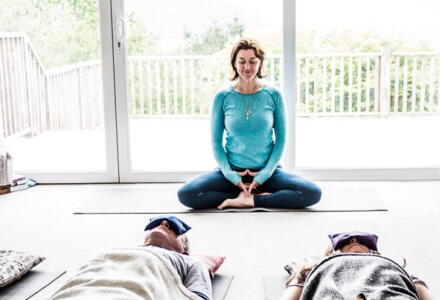 Booking Your Yoga Class, Event or Retreat
How to use our booking system to get started with OM YOGA, using our separate booking website, bookwhen.com. It's easy as pie!
INSTRUCTIONS for Booking Classes / Events with OM YOGA North Wales 2022.
To book a class or event with Kate, follow THIS LINK to our separate booking website. You will see all classes and events listed on the left-hand side, in date order.
On the right-hand side see more information about the class / event / teacher. Choose your class and click on it, it will go YELLOW. Scroll down to find the Booking section and Class Price. You can pay for one class as a Drop-In or get a discount if you buy a CLASS PASS.
To pay for a Drop-In, Click the Select button and notice this is now in your basket at the top. You can add more classes if you like.
To buy a Class Pass, click on the blue text 'pass' and hit the SELECT button and this will now appear in your basket at the top of the screen.
To complete the Class Pass purchase you must add AT LEAST ONE CLASS to your basket.
Click back to the SCHEDULE on the top left, and you will go back to the listings page. Choose your first class and click on it, it will go YELLOW. Click SELECT on the right (don't worry about it saying the Drop-In price, it will be discounted with your Class Pass). Keep booking classes in this way. You can use up all your 'tickets' in your Class Pass now or you can book some now and some later. You don't have to book the same class every week, and you don't have to come every week.
From your first booking, you have 60 DAYS to use your 6 tickets.
Your basket is at the top of the page and will show your Class Pass and the classes you have booked, with your discount applied, or the events you have booked. (Events are not included in your Class Pass as they are priced differently but you can book them at the same time.)
There is a WAITING LIST option on the website so if a class is full, please put your name down and you will be automatically e-mailed if a space becomes available.
Either pay online now for your class pass / event or leave a note at the bottom of the page re how you want to pay.
Once you have completed your booking, you will receive an automatic e-mail with all your booking information, address of the class / event and what you will need to bring, as well as a link back to the website to manage your bookings if you need to.
If you can't make a class, you can CANCEL or TRANSFER your booking to another date at any time and not lose any money as long as it more than 24 hours before a class and 48 hours before an event. You won't be refunded automatically if you CANCEL a class or event. I send refunds once a week via our payment gateway, Stripe.
To CANCEL or TRANSFER, go to your account and click the booking number eg M6M77, or find your confirmation e-mail and click on the View Booking button and you will see TICKET OPTIONS next to each date. Open this and Choose Cancel or Transfer. Click Cancel if you cannot attend another class, or Transfer and follow the instructions to choose another class and make sure you click SAVE. You will get an e-mail to let you know you have successfully moved your class / event.
You will get an automatic reminder e-mail before each class.
Finally, please do not reply to the to the katehhyogabookings@gmail.com e-mail, as this is where all automatic emails are generated and I do not check this email account.
Please contact me via my personal e-mail kate@omyoganorthwales.co.uk or call / text / WhatsApp me on 07778 134846 with any questions.