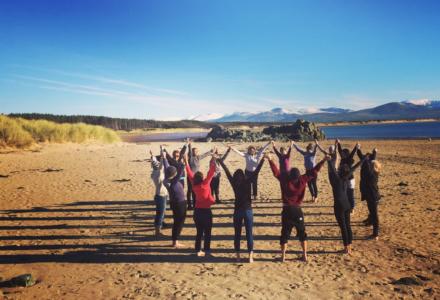 Testimonials from Yoga Retreats
I had the BEST time running over 60 retreats for The Zest Life on Anglesey. But everything in life comes in cycles and, after over 5 years, it felt time to move on and create my own offering. These are some of the reflections, feedback and testimonials from my time with The Zest Life.
'The Yoga was excellent, fantastic teacher, lovely calming sessions that were also challenging, Kate shared so much of her passion, knowledge and warmth with us it was amazing. Yoga outside was a treat too.'
'Hi, Kate, Thank you SO MUCH for the wonderful weekend last weekend in Plas Cadnant. You are an amazing teacher, and I love your energy. I have gained so much from that short space of timeless time, and I know that you have kicked something off for me, which is both life-long, and life-giving.'
'I loved the yoga and the SUP. Probably the Highlight was the evening yoga on the lawn. Magic! Kate is an amazing teacher. …As I have said Kate is a gifted yoga teacher - I loved her style.'
'I was initially a little worried about whether the yoga would be sufficiently challenging, but I thought Kate was very skillful in building on previous sessions and gently adding in more intensity.'
'In particular Kate's yoga sessions were really fantastic and taught me a lot of technique. Kate's meditation session on the Saturday evening was also a gem of an experience.'
'The yoga was amazing; Kate was just so calming and explained everything so well. For someone who has not done Yoga before I loved it.'

'Kate was a great teacher and I definitely learned a lot.'

'I was totally nourished by Kate's amazing yoga classes.'

'The 'wild swim' was the main reason me for joining this group but the Yoga was 1st class.'

'Kate was great, very encouraging and inspiring and I felt instantly at home as soon as she met me in the car park which is important I think going to the retreat by myself.​'

'My favourite part was the yoga practices - relaxing and invigorating at the same time.'

'What a fantastic experience we had with you at Plas Cadnant! Thank you so much! It was a truly uplifting and de-stressing three days. We have both come back feeling a whole lot more relaxed and so glad we did it! Your yoga teaching, the super walks, everything about the place was fabulous. You were so thoughtful in every way and worked so hard to make it all perfect.'

'Loved the walks and yoga - Kate's meditation session was inspiring'.
'The yoga sessions were amazing, Kate is such a skilled and intuitive teacher. She really was born to teach yoga.'

'It was an exceptional weekend and now one of my most memorable life experiences. I keep a shell from Newborough beach next to my bed and when I touch it, it reminds me of yoga on the beach, the sun on my face and laughing with a great bunch of new friends.'
'I also very much enjoyed Kate's offer of meditation before bed on Saturday, she gave a wonderful introduction into this practice that I had tried before but not taken further and after this session I have taken on board a lot of what Kate said and been able to continue at home. '

'Kate was fantastic, really inspirational yet appreciates life 'in the real world '

'I had THE BEST time as Plas Cadnant, Kate was a wonderful teacher and is such a warm and kind person we felt instantly welcome and well looked after.'

'I enjoyed the yoga sessions. The style of yoga was a bit different to what I've done before and I enjoyed it very much. Kate has a very engaging and thoughtful style and is easy to listen to.'

'Kate's teaching style and technique were lovely.'
'The best things: a warm welcome and friendly 'staff'. Kate's yoga sessions (brilliant for me as a beginner and I heard good things from more advanced yoga bods)'
'I'm not a serious yoga bunny but I thought the classes were really good at getting me to think about it more and I felt like I had a better understanding of the practice at the end of the weekend. I really enjoyed Kate's additional meditation session on Saturday evening.'

'Kate was a brilliant yoga and meditation teacher and I loved having the classes in the visitors' centre.'

'I returned from the retreat with the biggest smile on my face & all my colleagues told me I looked 20 years younger! I think I felt more well both physically & spiritually than I have done in a very long time. Your incredible teaching was a big part of that so thank you very much. As I said I only wished I lived nearer so that I could come to a regular yoga class though from your website it looks as if you're nearly full all the time!'