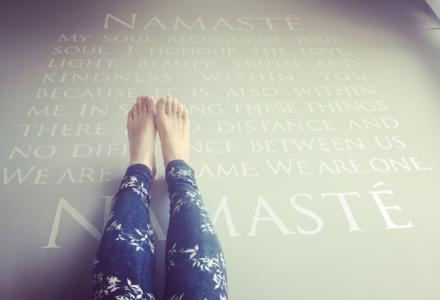 What is Yoga Nidra?
I teach Hatha Yoga to unwind the tensions that build up in the outer, physical body. I teach Pranayama (breathing techniques) to create more space on the inside. I teach Meditation to access the wisdom of the higher self. I teach Yoga Nidra to teach the lost art of rest and to initiate deep change and deep peace.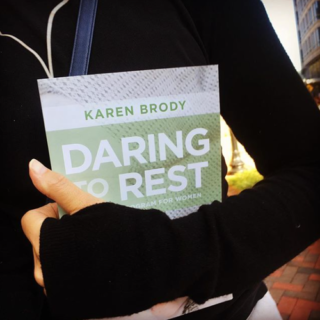 Since my first experience of Yoga Nidra years ago, I have often tried to find recordings of Yoga Nidra online and really struggled to find any recordings that gave me the same feeling of peace and deep, deep rest that I had experienced with my first yoga teacher.
After discovering the Daring To Rest book, I downloaded the recordings that run with the three phases of rest as set out in the book, categorized as Rest, Release and Rise. Author Karen Brody is American, but thank goodness I love her voice and when she opens each Nidra with… 'Close your eyes..' I just melt into my mat! I started my training with Karen in September 2018 and am now sharing and teaching this beautiful practice. I now record the Daring To Rest Yoga Nidras so that my students have my voice, which is familiar to them and reminds of their classes in my cosy studio, to listen to. I have shared some recordings for you to try on my Students Resources page.

'Yoga Nidra is one of the least known and most under-appreciated pratices of Yoga, yet it's potential reach is immense. In our modern society, many of us are accustomed to doing more to get more.... Yoga Nidra is not about doing more, it is about doing less. Yoga Nidra is about releasing the struggling and striving to get somewhere. It is the art of doing nothing to arrive exactly where you want to be.'

Kamini Desai, page XI, Yoga Nidra The Art of Transformational Sleep.
If you are interested in the science of how Yoga Nidra works, Kamini Desai's book is THE modern text book on Yoga Nidra. I have so many parts of it underlined and starred!!

But, back to Karen Brody, my Yoga Nidra teacher.

Karen Brody sums up Yoga Nidra like this….
'Yoga nidra meditation is a sleep-based meditation technique. It is literally yogic sleep - sleep with a trace of awareness. The body sleeps but the mind remains awake listening to guided instructions. It feels like a nap, and some say 45 minutes feels like 3 hours of sleep in your body.
I call it "meditation with a cherry on top" because you get all the benefits of meditation plus deep sleep.
Here are a few of the key benefits:
Minimizes tension and counteracts stress. In our modern world, many people are in a state of tension and frustration - muscular tension, emotional tension and nervous tension. The mind is always in a state of arousal. In the practice of yoga nidra meditation, the mind is relaxed through breathwork and guided rotation through the body, thereby releasing the mental tensions. As a result, through a regular practice of yoga nidra, tensions at the physical, emotional and mental level can be minimized.
Relaxes and trains the mind. The subconscious mind is obedient. During yoga nidra meditation we use a Sankalpa, a deep heartfelt intention, and we plant it in the subconscious mind when the body and conscious mind is relaxed and we are ready to absorb and accept it at a very deep level. Also, when awareness is rotated on the different body parts during yoga nidra meditation, it not only induces physical relaxation but also clears the nerve pathways to the brain.
Clears up unconscious conflicts. From early childhood, we tend to repress wishes, desires and conflicts. During yoga nidra meditation the practice of visualization brings the unconscious repressed desires, experiences, conflicts and frustrations to the conscious level and then cuts off the personal identification with those experiences. As a result, the unconscious is cleared up.
Awakens creativity. Several examples from the past indicate that creativity is a characteristic of a relaxed and calm mind. When the mind is totally relaxed, the awareness slowly enters the deeper realms (subconscious and unconscious) of the mind and the person becomes aware of the creative and intuitive faculties. Regular practice of yoga nidra helps in making a bridge between the conscious and unconscious mind, awakening creativity.
Enhances memory and learning capacity. When yoga nidra meditation is used in education, both hemispheres of the student's brain are involved in learning the subject, whereas in classroom teaching the left hemisphere functions more. In this way, the practice of yoga nidra meditation involves the total mind in learning. A 1973 research study found that, "using the technique of yoga nidra it was possible to teach a foreign language in 1/5th of the time required by conventional methods". (Ostrander, S., & Schroeder, L., (1973). PSI - Psychic Discoveries Behind the Iron Curtain, Abacus, UK, pp. 290-302.)'
I would add to that list that Yoga Nidra re-trains the body and mind in How To Fall Asleep! And many of my students have reported that their sleep has improved dramatically once they committed to a regular practice of Yoga Nidra. They either started a daily practice in their chosen time of day, eg after work, or they used it just before bedtime to help the body and mind unwind ready for sleep. Or, even using it in the night if awake at 3am and the mind switches into overdrive. (I personally use it in all three ways at different times, and it is my lifeline for me to get a good night's sleep).
Please check my Yoga Nidra page for more information on when you can join me for some relaxing Yoga Nidra.I hope to see you on a mat, under a blanket, very soon!