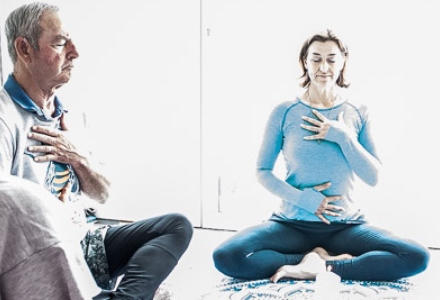 Yoga Styles - which class to choose?
There are so many different types of yoga to choose from, it's a bit mind-boggling! Whether you are looking to try some yoga in your living room, via YouYube or Zoom, or if you're feeling ready to head out the door with a mat rolled under your arm for an in-person class (remember those?!)… read on!
First things first...

YOU need to decide what is going to serve YOU the best…at this point in your life??
A physically demanding class?
Or an easier, relaxing, meditative class? Something to keep you mobile, strong and energised?
Or do you need help with stress and anxiety?
With each style a bit different from the others, you'll find there are ALSO variations with each teacher. I know that the longer I have been teaching (since April 2013) the more my style of teaching has become a unique blend of all the teachers who have taught me… we all stand on the shoulders of those who have come before us and honour our own 'learnings' by passing them on…
My advice for anyone starting out is to begin with a Beginners Class – like driving a car or learning to paint, begin at the beginning. Please don't jump straight into a strong class if you have not done any body-work before, or you risk injury and frustration!
If you have done yoga before and are looking to try a different style and teacher, maybe to challenge yourself to break out of your comfort zone, then a great place to start is for me to outline what the different styles are and what to expect from a class here with our experienced team of teachers.
Here are the major types of yoga:
1. Hatha Yoga
Hatha Yoga has become the most popular form of Yoga in West, since yoga was introduced in the late 1800's by Swami Vivekananda. Hatha Yoga has derived its meaning from 'Ha' of Sun and 'tha' of moon. A class of Hatha Yoga moves through the classical postures of yoga. It is said to be very balancing form of yoga, aimed to bring harmony to opposite forces in the body. The entire art of Hatha yoga is based on a rounded practice of yoga, breathing techniques, postures and energizing the subtle channels. It also aims to increase concentration and balance the energy level in the body.
How to practice:
Hatha yoga classes are best for beginners since they are usually paced slower than other yoga styles. Hatha classes today are a classic approach to breathing and exercises. If you are brand-new to yoga, hatha yoga is a great entry point to the practice.
Helen Jackson will be taking our Hatha Class on a Tuesday evening. Expect a slow but strong flow, building strength and flexibility. Suitable for most people of all abilities.
2. Dru Yoga
With its foundations set firmly in ancient yogic tradition and its emphasis on flowing movements, Dru Yoga can help increase energy levels, ease back pain, and wash away stress.
How to practice:
Designed to be practised by people of all abilities, fitness levels and age groups, it is a style of yoga that can be quickly dipped into or learnt in more depth over a lifetime. At its most simple, Dru Yoga helps relieve the pressures of modern living.
Kate Hamilton-Kapur's style of yoga is based on Hatha, which she practised for 14 years before training with Dru Yoga in Bethesda, Snowdonia. Dru Yoga is a flowing form of Hatha Yoga. Kate teaches on Tuesdays, Wednesdays and Thursdays.
3. Vinyasa Yoga
Vinyasa means "to place in a special way" and, in this case, yoga postures. It is the often considered the most athletic yoga style. Vinyasa was adapted from Ashtanga yoga in the 1980s. Many types of yoga can also be considered to be in the Vinyasa style, such as Ashtanga and 'Power Yoga'.
How to practice:
Vinyasa yoga has come to mean poses linked together by the breath. That means all movements in a vinyasa class are co-ordinated with your breathing, and there's no break in between poses. Instead, you're just dynamically moving from one to the next. This dynamic movement can flow at a rapid pace—or it can be really slow. Whatever the speed, all vinyasa classes share the element of moving dynamically with the breath.
In our Introduction Class with Natalie Gray on a Saturday morning, you will be taught the postures thoroughly before learning short flowing sequences, these are known as Vinyasas.
Jane Barnes is taking a Monday evening class in Vinyasa and says "It is suitable for all levels, as modifications will be offered, building strength and flexibility."
4. Yin Yoga
Yin yoga targets your deep connective tissues, like your fascia, ligaments, joints, and bones. It's slower and more meditative, giving you space to turn inward and tune into both your mind and the physical sensations of your body. Because you're holding poses for a longer period of time than you would in other traditional styles of yoga, yin yoga helps you stretch and lengthen those rarely-used tissues while also teaching you how to breathe through discomfort and sit with your thoughts.
The practice of yin yoga is based on ancient Chinese philosophies and Taoist principles which believe there are pathways of Qi (energy) that run through our bodies. By stretching and deepening into poses, we're opening up any blockages and releasing that energy to flow freely.
How to practice:
Yin Yoga is recommended for students who have been practising yoga for at least a year. Having the mind – body awareness that grows with a yoga practice will be of great benefit when you have to hold a yoga pose for 2 – 5 minutes! The practice is as much a mindfulness practice as it is a physical practice.
On Monday evenings, Jane Barnes will take you through a delicious Yin class and on Sunday mornings, Kate is offering an Introduction class for 6 weeks to take you through the foundations of this practice.
Samantha Hare will be teaching the first slot on a Monday morning, drawing on all three of these styles!! Influenced by traditions of Ashtanga Vinyasa Flow to ignite our inner fire, Hatha and Yin to deepen and let go, breath work and meditation to ease us back into balance, Samatha's Intermediate Class will kick your week off in style.
5. Iyengar yoga
Iyengar yoga was founded by B.K.S Iyengar and focuses on alignment as well as detailed and precise movements. In an Iyengar class, students perform a variety of postures while controlling the breath.
How to practice:
Generally, poses are held for a long time while adjusting the minutiae of the pose. Iyengar relies heavily on props to help students perfect their form and go deeper into poses in a safe manner. Although you won't jump around, you will definitely get a workout and feel incredibly open and relaxed after an Iyengar class. This style is really great for people with injuries who need to work slowly and methodically.
We will be providing Iyengar Classes at Bodnant in the near future.
6. Chair Yoga
A chair-based class for those who may struggle getting onto and up from a yoga mat. Ideal if you need a gentle, adapted approach which will still work at strengthening and smoothing muscles, improving flexibility and movement of joints, use breathing and relaxation techniques to help calm the mind, balancing postures (still can be done seated) to sharpen dexterity and focus concentration.
How to practice:
Come in comfy clothes, with an open mind! Movement is medicine for body, mind and soul. Community is also important as we are social creatures. This class will be adapted to each individuals needs.
Suitable for complete beginners.
Samantha Hare will be leading this class on Mondays.
7. Kundalini Yoga
Kundalini Yoga is equal parts spiritual and physical. This style is all about releasing the kundalini energy in your body said to be trapped, or coiled, in the lower spine.
How to practice:
These classes really work your core and breathing with fast-moving, invigorating postures and breath exercises. These classes are pretty intense and can involve chanting, mantra, and meditation.
(I tried a Kundalini 5 hour workshop last year and when I left and drove home, I found I didn't feel particularly excited by this style of yoga; I didn't feel centred, calm or enlightened! But I know people who LOVE this style of yoga; it's always good to give new things a try.)
8. Ashtanga yoga
In Sanskrit, Ashtanga is translated as "Eight Limb path." In Mysore, India, people gather to practise this form of yoga together at their own pace—if you go to a Mysore Ashtanga class, you are expected to know the Primary series. Vinyasa yoga stems from Ashtanga as the flowing style links breath to movement.
How to practice:
Ashtanga yoga involves a very physically demanding sequence of postures, so this style of yoga is definitely not for the beginner. It takes an experienced yogi to really love it. Ashtanga starts with five sun salutation A's and five sun salutation B's and then moves into a series of standing and floor postures.
We are offering Vinyasa classes rather than Ashtanga at Bodnant, as this is quite an extreme style of yoga!
9. Bikram Yoga
Named after founder Bikram Choudhury, featuring a sequence of set poses in a sauna-like room—typically set to 40 degrees C and 40% humidity. Choudhury faced sexual assault and harassment lawsuits in the U.S. and fled to Mexico in 2017, where he continues to teach. Many studios that were formerly Bikram now call themselves Hot Yoga, in an effort to disassociate with the founder.
How to practice:
The sequence includes a series of 26 basic postures, with each one performed twice. Many of these poses are focused on proper alignment. If you're interested in yoga with the heat turned up, look for studios that offer Hot Yoga classes.
Not my cup of tea!! We won't be offering this at Bodnant, the nearest Hot Yoga Studio is in Chester.
10. Restorative Yoga
A Restorative Yoga Class focuses on winding down after a long day and relaxing your mind. At its core, this style focuses on deep, deep relaxation. Restorative yoga also helps to re-set an over-taxed nervous system and helps with chronic conditions and to relieve every day stress.
How to practice:
You spend more time in fewer postures throughout the class. Many of the poses are modified to be easier and more relaxing. Like Iyengar, many props are used and are placed just right such as blankets, bolsters, and eye pillows. All of the props are there to help you sink deeper into relaxation.
Due to having to use a lot of props eg bolsters, pillows, blocks and cushions, it is difficult to teach this at Bodnant right now, as we are not allowed to share any equipment. Hopefully we can teach this in the future.
11. Pre & Post natal Yoga
Carefully adapted for mums-to-be and after the birth of baby, yoga classes for these transition periods are tailored to women in all trimesters and to get back to full fitness after childbirth. Many have said that prenatal yoga is one of the best types of exercise for expectant mums because of the pelvic floor work, focus on breathing, and bonding with the growing baby; prenatal yoga also helps mothers prepare for labour and delivery.
How to practice:
During this practice, you'll use props in order to modify your poses and ensure stability—in this class, it's more about stability than flexibility. Learn effective Yoga postures for pregnancy and your post natal stage plus breathing, massage and touch techniques useful for pregnancy, labour and post natal.
We will be holding sessions with Natasha White later on this year or early 2021.
Please join a class at Bodnant Welsh Food in the Conwy Valley...try several classes with different teachers until you find the perfect fit for you. And don't hesitate to get in touch if you need more guidance to get you started.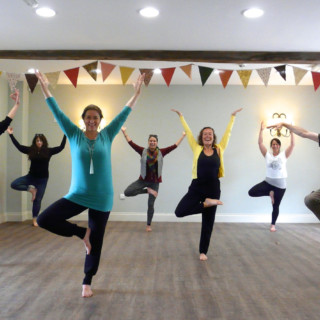 Kate's Yoga Classes are amazing and have a wonderfully positive impact on my body and mind. She balances relaxation, posture work and body conditioning perfectly and all to beautiful music. The environment is perfect and Kate has an easy, natural, inclusive style that creates a feeling of calmness, strength and joy within me - a truly inspirational teacher.

Jane Brown