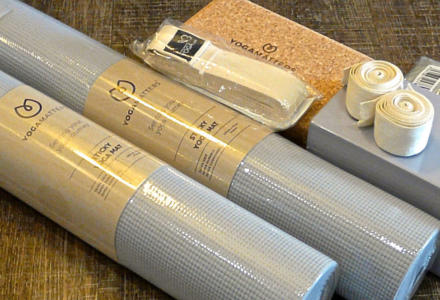 Class Kit List
You don't need much equipment to come along to one of our Wellness
classes, but some specialist equipment does make it easier and more comfortable.

Kate's Top Tips for your Yoga / Pilates Kit Bag....
KIT LIST - essential
Mat – buying a good quality mat is a great investment, choose ethical / eco friendly if possible without nasty chemicals. Yoga mats are usually 3 - 5mm thick and work for Fitness, Yoga & Pilates. Pilates mats tend to be 10mm thick and are not great for yoga.
Yoga Blocks bring the ground up to you, making it easier to sit upright, reach the floor, or support a limb. So one at least is essential for regular classes.

Blanket – get cosy at the best bit of every class... Relaxation!

Strap – a yoga belt with D-ring, or my softer cotton straps are used for leg and shoulder stretches.
A Resistance band for Pilates & Female Fitness Classes or 1.5 metre length of stretchy material.

KIT LIST - optional
Yoga Bolster – great for under knees in Relaxation and essential for Yin Yoga.
Knee Pads – for delicate knees while in Cat type poses.

Yoga Bricks are useful as they can turn on any edge for different heights. I like having two of these to hand.

Cushions – Bring a couple from your sofa for relaxation or sitting on your mat in Meditation.

Spiky Pilates Ball / Tennis Ball – we don't use these often but we occasionally get them out for a good hip opening ouch.

Eye Pillow / Scarf to shut out the light in relaxation makes a big difference to getting into the best chill-out zone.
You'll need a bag to keep and carry your kit as well!